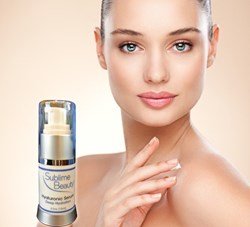 Sublime Beauty® is launching its newest product this week, a Hyaluronic Serum, at a 20% introductory discount.
St. Petersburg, FL (PRWEB) August 26, 2013
Sublime Beauty® is launching its newest addition to the family, a Hyaluronic Serum. This week the serum will be offered at 20% off with the coupon code HYALURL2.
The company also released a short music video about the new product.
Hyaluronic Acid occurs naturally in our bodies and lubricates joints and moveable parts of the body as well as plumping and protecting the skin. About 50% of our Hyaluronic Acid is actually found in the skin, and it works with Collagen to give skin its firmness, resilience and moisture.
Unfortunately, both Hyaluronic (pronounced HIGH-AH-LUHR-ON-ICK) Acid and Collagen diminish each year and this contributes to wrinkles, sagging and thinning of skin.
"Add Hyaluronic Acid back to your skin with a serum such as ours," says Kathy Heshelow, founder of Sublime Beauty®. "It will absorb and penetrate to moisturize your skin, help collagen synthesis, and benefit the skin enormously."
Use the serum twice daily: in the morning and evenings after cleansing and before applying the day or night creams. "Hyaluronic Acid can hold 1,200 times its weight in water. Think of that power for your skin," says Heshelow.
With daily use, results will show in about 3 weeks and with continuing replenishment, skin will be healthier and younger. Make sure to use products that will boost collagen production as well, says Heshelow, such as the Sublime Beauty® Collagen Peptide serum and the Face Whisperer® day and night creams.