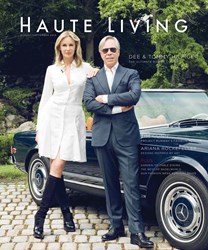 The smartest business decision I ever made was to find a niche in the market and stick to it over a long period of time. The second smartest was to bring in great partners." —Tommy Hilfiger
New York, NY (PRWEB) August 26, 2013
Dee & Tommy Hilfiger are featured on the cover of Haute Living's New York Fashion Issue. The couple discusses the ins and outs of building a successful fashion empire, while renovating two homes and raising a toddler.
"The smartest business decision I ever made was to find a niche in the market and stick to it over a long period of time," Tommy says. "The second smartest was to bring in great partners."
In addition to talking about his business, he also takes a comical approach to being confused with another fashion icon, Ralph Lauren.
"We were at Harlow restaurant recently and a guy came up to me and said, 'I just got into town and I ran right to your store and bought a bunch of shirts and that's all I wear. I love your shirts... I love the horse,'" Tommy recalls. "I smiled politely and said, 'oh, thank you very much.'"
As far as Dee and Tommy's relationship, their beginnings were a bit unique.
"I was on the beach with my two children and his yoga instructor started talking to me at the bar when I was trying to get change," Dee explains. "Tommy was wearing sunglasses and standing with two other guys, so I didn't realize who he was right away. When I found out it was Tommy Hilfiger, I assumed that I would be going on his boat with he and his boyfriend. I wasn't even aware that he was a straight designer! So no, it was not love at first sight," she says.
See the entire issue here: http://www.hauteliving.com/magazine/new-york-augustseptember-2013/flipbook/ .
Also in this issue: Get to know Ariana Rockefeller and see how her family's fashion and art worlds collide. We also speak with Project Runway's Tim Gunn to see how he "Makes it Work" in NYC. Masaharu Morimoto talks about bringing his Japanese soul food to American foodies, and also get to know Scott Lipps of ONE Management through the lens of his Blackberry.