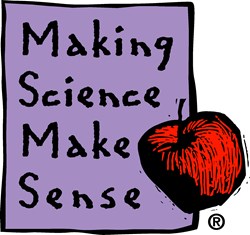 We like to help crops and communities grow, and we're excited to continue our commitment to do both at this year's Farm Progress Show. We look forward to seeing the trees, as well as the groups that receive them, flourish for years to come.
CHAMPAIGN, Ill. (PRWEB) August 26, 2013
It's said that the two best gifts are roots and wings, and in the coming weeks, Bayer CropScience will contribute both to Illinois communities by sponsoring "Making Science Make Sense®" for middle school students, helping children make healthy lunch decisions by donating salad bars to schools and beautifying communities by giving trees to local service organizations.
First, Bayer offered budding scientists the wings of inspiration when it kicked off its 2013 Farm Progress Show activities today in Decatur, Ill., with a visit to students at Jefferson Middle School in Champaign as a part of its national, award-winning "Making Science Make Sense" curriculum. Bayer CropScience volunteers helped students conduct hands-on science experiments to stir to action the next generation of innovators and support science literacy.
Making Science Make Sense
More than 40 years ago, Making Science Make Sense was born when Bayer volunteers began helping teachers and students embrace science the way scientists do—by putting it into action. Today, in Bayer site communities across the country, more than 1,000 volunteers work to foster science literacy and ignite student interest in science.
"Science is an integral part of our everyday lives, and we want to show students that science learning is not only fun, but can also open doors to endless educational and career possibilities for bright young minds," said Russell Jones, Fellow, environmental safety, Bayer CropScience and a Making Science Make Sense volunteer. "We're putting textbooks aside for the morning and providing hands-on, visual learning experiences to sixth graders at Jefferson Middle School."
Agriculture is a critical part of the Illinois economy, and science plays an important role in propelling the future of farming. "Farm Progress Show is the largest outdoor farm show in the nation, and presents a great opportunity to meet people from the communities we serve year-round. That includes the next generation of innovators like the students at Jefferson Middle School, just a quick drive from our show booth in Decatur," said Jones.
Supporting Delicious, Healthy Eating
Bayer's relationship with Jefferson Middle School began with the donation of a salad bar to the school's cafeteria, which allows students to enjoy fresh fruit and vegetables year-round. "Bayer is committed to helping make positive impacts and enriching young people in the lunchroom as well as the classroom," said Rob Schrick, strategic business management lead – horticulture, Bayer CropScience.
The donation is part of the company's involvement, along with United Fresh Produce Association, in the "Let's Move Salad Bars to Schools" initiative, which promotes healthy and responsible choices for school lunches. A day-long educational event about healthy eating is planned for Jefferson Middle School later this fall. The Jefferson Middle School is one of 11 schools nationwide to receive a salad bar as part of a grant from Bayer.
Taking Root in Communities
Additionally, Bayer is donating eight trees to community groups throughout Illinois, further grounding the company in prairie soil for generations to come.
"We like to help crops and communities grow, and we're excited to continue our commitment to do both at this year's Farm Progress Show," said Calvin D. Brown, technical sales representative, Bayer CropScience. "We look forward to seeing the trees, as well as the groups that receive them, flourish for years to come."
The following Illinois groups will receive trees from Bayer CropScience:

Salem4youth (Flanagan) is a therapeutic residential program for at-risk young men ages 12 –18. In June, Salem4youth's director of development, Steve McNair, was awarded the first ever Bayer Bee Care Community Leadership Award for launching a beekeeping and apiary program there and integrating it into the curriculum.
Arcola High School (Arcola)
Arcola Health Care Center (Arcola) provides independent and assisted living options and medical care for seniors.
The trees will be at the Bayer CropScience Farm Progress Show booth (Lot 441) until they are delivered to their new homes following the completion of the show.
Bayer's commitment to sustainability begins with developing its people and enriching the communities in which it operates. That commitment extends around the world through efforts that help farmers address their greatest challenges in an environmentally responsible manner.
Bayer CropScience believes that greater food security creates healthier people and communities. For additional information and background on Bayer CropScience and its other programs, please visit bayercropscience.us/our-commitment/bayer-initiatives. For more information about the Making Science Make Sense program, visit http://www.bayerus.com/msms.
Bayer CropScience Twitter Page:
http://twitter.com/bayer4cropsus
Bayer CropScience Blog:
http://connect.bayercropscience.us/
###
About Bayer CropScience
Bayer is a global enterprise with core competencies in the fields of health care, agriculture and high-tech materials. This year the company is celebrating 150 years of Bayer―consistent with its mission "Bayer: Science For A Better Life." Bayer CropScience, the subgroup of Bayer AG responsible for the agricultural business, has annual sales of EUR 8,383 million (2012) and is one of the world's leading innovative crop science companies in the areas of seeds, crop protection and non-agricultural pest control. The company offers an outstanding range of products including high value seeds, innovative crop protection solutions based on chemical and biological modes of action, as well as an extensive service backup for modern, sustainable agriculture. In the area of non-agricultural applications, Bayer CropScience has a broad portfolio of products and services to control pests from home and garden to forestry applications. The company has a global workforce of 20,800 and is represented in more than 120 countries. This and further news is available at press.bayercropscience.com.
Contact:
Bayer CropScience Media Hotline, 1-877-879-6162, or
Becca Hogan
External Communications
Bayer CropScience
Tel: (919) 549-2998
Email: becca(dot)hogan(at)bayer(dot)com
Jenell Loschke
Charleston|Orwig
Tel: (262) 957-6031
Email: jloschke(at)charlestonorwig(dot)com
USA-BCS-2013-0244
Find more information at bayercropscience.us
Forward-Looking Statements
This release may contain forward-looking statements based on current assumptions and forecasts made by Bayer Group or subgroup management. Various known and unknown risks, uncertainties and other factors could lead to material differences between the actual future results, financial situation, development or performance of the company and the estimates given here. These factors include those discussed in Bayer's public reports which are available on the Bayer website at http://www.bayer.com. The company assumes no liability whatsoever to update these forward-looking statements or to conform them to future events or developments.