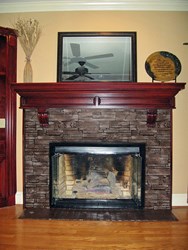 New color options always make customers happy.
Deer Park, NY (PRWEB) August 29, 2013
Faux Panels' Norwich line of stone veneer expands even more with the addition of five new colors, increasing the design options for decorators, architects, designers, home owners and commercial businesses. This addition makes Norwich one of FauxPanels.com's most expansive design lines.
"Anyone who has ever redecorated or built a place from scratch knows there's no such thing as too many color options," said Steve Barron, president of Barron Designs, parent company of FauxPanels.com.
Norwich faux stone siding can be used on an exterior or interior so it's extremely versatile. It provides the look of genuine stone without the heavy weight, meaning it can be used without reinforcing a structure. It also makes it ideal for set design of all kinds.
Even better, the five new colors – Birchwood, Everscape, Iced Coffee, Misty Mountain and Spice – are available in every Norwich pattern except Coralstone. That means that whether you like Colorado Stacked Stone or Dakota Stonewall or Carolina Random Rock or Kentucky Drystack, the new colors are an option for your design.
Birchwood is a mix of gray and brown, evoking deep canyons. Everscape is lighter in tone, featuring mixed grays with a touch of brown. Iced Coffee is an elegant mix of black and grays. Misty Mountain has shades of brown with undertones of plum reminiscent of rock touched by sunset. Spice is mixed shades of reddish browns from the earth.
Whether you use it to cover an exterior or create an accent wall or of many other design options, Norwich faux stone siding panels are a smart choice that is highly durable, easily withstanding wear and tear without chipping like real stone would.
Thanks to its polyurethane construction, it holds up great even in extreme cold, high moisture, bright sunlight and more without rotting, warping or fading. Even better, termites and pests have no interest in it. Because it's extremely low maintenance it frees up weekend time and minimizes downtime for a commercial business.
"Our Norwich line comes in so many great designs. The combination of its durability, easy installation and now even more color choices make it an even more attractive option for any renovation," said Barron.
About Barron Designs
Barron Designs Inc. is a family-owned home improvement business operating since 1972. Its subsidiaries include the industry leading FauxPanels.com, which has a huge selection of easy-to-install, low maintenance, realistic faux brick, stone and wood panels, and outstanding customer service. FauxWoodBeams.com leads the field of polyurethane wood beam products, ceiling panels and architectural products. FauxColumns.com features easy-to-install faux stone and brick columns that meet national crash standards. Products from various Barron Designs companies have been featured on television shows such as "Man Caves," "I Hate My Kitchen," "Celebrity Apprentice," numerous appearances on "Extreme Makeover: Home Edition," and many more. For more information, visit BarronDesigns.com.