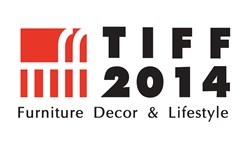 Mark your calendar, March 12th-16th, 2014!
(PRWEB) August 27, 2013
The Department of International Trade Promotion (DITP), the Ministry of Commerce, together with the Thai Furniture Industries Association (TFA) and the Thai Furniture Industry Club (TFIC) of the Federation of Thai Industries (FTI) has announced they are all ready to make sure that the upcoming Thailand International Furniture Fair 2014 or TIFF 2014 will be one of the most foremost in Asia in terms of design and creativity. Set to feature over 200 top furniture makers in over 750 exhibition booths, the event promises a great platform for furniture business networking and a great place to look for distinctively designed furniture items. TIFF 2014 will be held from March 12th-16th, 2014, at IMPACT Muang Thong Thani, Thailand. During the first three days (Trade Days), March 12th-14th, the event will be open from 10.00 to 18.00, while during the last two days (Retail Days), March 15th-16th, the event will be open from 10.00 to 21.00.
Mrs. Srirat Rastapana, DITP Director-General, stated that, "Thailand International Furniture Fair 2014 or TIFF 2014 aspires to become a major international furniture exposition that will impress potential buyers from around the world through outstanding product quality and design excellence. This annual furniture fair has become increasingly popular each year, and last year's TIFF 2013 attracted as many as 20,503 international visitors and generated 460 Million Baht in sales. Overseas buyers were principally from Japan, Malaysia, India, China and the United States."
To maintain the momentum of success, the organizing partners aim to reach even new heights of accomplishments with TIFF 2014.
"TIFF 2014 will undoubtedly be Thailand's grandest and most comprehensive furniture exposition ever. The Small Order OK (SOOK) policy will also be in place to welcome buyers with specific needs and with small orders. With the SOOK policy, one can make niche orders with specialized requirements, even with orders as small as only one piece."
Highlights of the event include the following:

'T-Style Project' exhibition by world-renowned Japanese designer Toshiyuki Kita.
'Design Excellence Award'. This exhibition showcases award-winning creative design pieces by Thai designers which have previously won the prestigious 'DEmark 2013' contest.
'Amercan Hardwood Design Camp' presents a host of selected furniture designs by furniture design university students.
'Waste to Wealth' exhibition to promote eco-friendliness and sustainable waste management.
For more information about TIFF 2014, please visit http://www.thailandfurniturefair.com or telephone Exporters' Hotline at 1169.