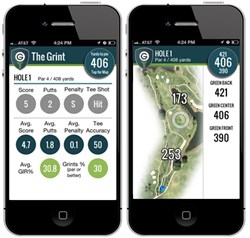 TheGrint GPS rangefinder will be one of the most powerful rangefinders available
Miami, FL (PRWEB) August 27, 2013
TheGrint new Golf GPS range finder will allow golfers to find distances to several points of each hole of the golf course, without interfering with the main functionality of TheGrint (USGA Golf Handicap).
The main focus during the development of this feature was accuracy and phone battery life. Tests of the new TheGrint GPS rangefinder showed precise distances and most importantly, minimum battery drainage. While most golf GPS apps leaves an iPhone with 30% or less battery, TheGrint GPS finder left 64% of battery on average during test rounds.
The company made public that the GPS functionality was in the works back in July 2013, and asked its members to begin mapping golf courses. TheGrint plans to use crowdsourcing to map thousands of golf courses around the world. The incentive to members to map is simple... they will get each golf course they map at no cost.
The company will review every course submission for accuracy, and it has promised to review and approve maps within 2 days of its receipt. This commitment was possible thanks to the investment the company is making in staffing up to cope with this new task.
This feature will come with a price of $0.99 per golf course. Once a member downloads a golf course, he/she will have unlimited access to that same golf course map. The revenue generated will be used mainly cover the extra costs generated by this effort.
The GPS feature has been at the top of the list of requests made by members over the 12 months that the mobile app has been in the market. TheGrint is very excited to announce its launch after several months of developing and testing.