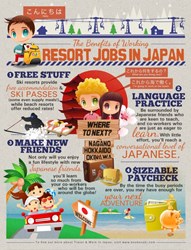 ...our great pricing, fast turnaround and quality output is what's really heating things up for us.
(PRWEB) August 28, 2013
Over the past week, Melbourne SEO Services' Infographic product has created a lot of interest for the specialist marketing company. Since launching their new image creating service not long ago, clients have commissioned them to create custom graphics to gain more online visibility and create social sharing opportunities. The director of the leading edge company Mr. David Jenyns comments on some of the reasons behind his business's growing popularity, "Since boobooSKI placed our graphic on their website, making our work visible to their many visitors, we've had quite a hike in interest for our Infographic service. I suppose our great pricing, fast turnaround and quality output is what's really heating things up for us."
Turning thoughts and ideas into tangible outputs, that customers are happy to pay for, is the goal for most service-based businesses online. The main problem though is getting the end product exactly right to meet client expectations.
Despite the challenges of their type of work, Melbourne SEO Services' fresh new product called Infographics is easily achieving client expectations. Since their latest work recently appeared on their client's website boobooSKI.com, a service for helping foreigners get work in Japan, the online marketing experts have experienced a significant rise in interest for the service.
The Benefits of Working Resort Jobs in Japan graphic was released on-page at the client's site and has "also been used for print media, too. We're able to provide various digital formats for our Infographics, giving our clients the ability to turn the online version into physical posters and flyers" explains Mr. Jenyns.
"It's our flexibility that has really caused the buzz around our Infographic service," remarks Mr. Jenyns, "Our clients have the ability to work closely with my team because the graphics we create are completely original and specific to them. They start off as an initial idea from the client, then my professional team get stuck into making it a reality, and keep the client looped in during the whole process."
The online marketing expert says once his clients receive their custom graphic, "their excitement about it is contagious. We love turning ideas into visual graphics that serve a purpose for small businesses"
What's more, Mr. Jenyns adds that he's specifically priced the Infographic service to be within reach of small businesses, "it's all done at a really affordable price of $495, plus GST where applicable." He continues, "There aren't many companies out there who can offer the professional talent, custom quality work and quick turn around like the Melbourne SEO Services team can."
The innovative online marketing and web video company Melbourne SEO Services has experienced a spike in interest for their Infographic service since a client unveiled it on-page on their website. The company director is proud of the 'word of mouth' buzz that the new Infographic has created. "Once people work with my friendly team," comments Mr. Jenyns, "they keep coming back and referring others, it's a real pleasure to have that kind of loyal following for our new custom graphic service." To see boobooSKI's Benefits of Working Resort Jobs in Japan image click here, or for more client their work visit Melbourne SEO Services' Infographic page.
About Melbourne SEO
MelbourneSEOServices.com is a full service search engine optimization (SEO) consultancy, based in Australia, but with a worldwide client base.
Known for being at the cutting edge of strategic SEO practices, the company delivers a growing suite of services including: on-page and off-page search engine optimization, article distribution, Google Places listing, press release service, web video production and one-on-one consulting.
Melbourne SEO Services Director, David Jenyns, has, over several years, built a team of experts who are niche experts to support the business, and who share his ethos for ethical, professional internet marketing.