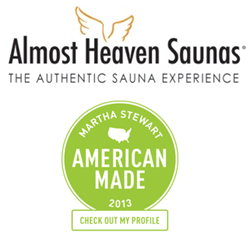 Renick, WV (PRWEB) August 28, 2013
Almost Heaven Saunas makes much of the fact that they are made in the USA, and with good reason! They are one of the few saunas manufactured in the United States, and their home saunas are shipped worldwide to sauna enthusiasts who value the quality and performance of genuine steam saunas.
Some of the distinctive aspects of their saunas include the exclusive use of western red cedar, stainless steel hardware and accents, and the attention to handcrafted workmanship. Rick Mouw, President of Almost Heaven Saunas, is convinced: "No other sauna in the world matches the quality and performance of our saunas." Their saunas have been manufactured in the Greenbrier Valley of West Virginia for over thirty years, making them one of the oldest sauna manufacturers in the industry.
Almost Heaven Saunas are sold as do-it-yourself kits. The components are all manufactured at the factory, and the consumer can assemble the sauna at their home in just a few hours or less. The Almost Heaven Barrel Sauna is one of their best selling models, in large part because it can be used outdoors. The barrel design is ideally suited for rain runoff and snow load, and the red cedar is naturally resistant to the elements and insects. Almost Heaven Saunas come with a lifetime warranty.
Mr. Mouw explains further: "We are pleased to announce that we have entered the Martha Stewart 'American Made' competition. This contest is designed to recognize exceptional products that are manufactured in the USA. We believe that Almost Heaven Saunas are the ideal product for this contest, and we are asking for your
vote."
For more information on Almost Heaven Saunas, visit http://www.almostheaven.com.