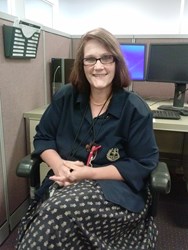 My agents have a positive impact on the people they serve. They understand that every contact is an opportunity to solve a problem and help someone to achieve their own objectives
Seattle, Washington (PRWEB) August 28, 2013
Edith "Edie" Edgar brings diverse skills and fifteen years of call center management experience to Sound Telecom's operations team. While working with Convergys, Edie effectively led their Cablevision Broadband and Dell Computer Home Sales divisions to high customer satisfaction and retention levels.
"Edie has an amazing depth and breadth of experience. I continue to be impressed with what Edie knows and what she knows how to do exceedingly well," adds Brian Gabriel, Sound Telecom's COO. While working with Affinity4 and Nexxlinkx, Edie managed the work force operations for 750 inbound and outbound customer service agents located across three different sites. This experience will help Edie successfully manage Sound Telecom's three call center facilities currently located in Seattle, Spokane and Denver. Edie will be responsible for providing world-class service levels across Sound Telecom's spectrum of support services which include telephone answering, inbound call center support and outbound telemarketing.
Edie will immediately focus on the performance of her call center agents as she takes control of Sound Telecom's operations. "It really comes down to balance," says Edie. "Once you have agents that understand what their expectations are you can coach for optimal performance." Edie is focused on optimal performance because Sound Telecom is experiencing strong growth and needs a call center manager that can quickly scale upwards. "Despite the economy," says Michael LaBaw, Sound Telecom's founder and president, "we continue to grow. We are in negotiations now to bring on 50 to 100 additional seats of inbound call center business in the next 6 months and we know that Edie will make sure we are ready for this growth."
Edie was raised in a customer service environment. She learned to serve others growing up in her family-run restaurant business. "As early as I can remember," says Edie, "I have been taking care of customers. Service is what I have done all my life. Working in call centers is a natural extension of my personality." Edie will share her passion for customer service with Sound Telecom's operations teams. Her goal is to exemplify and reinforce best practices by linking agent performance with Sound Telecom's core Mission, Vision and Values. "My agents have a positive impact on the people they serve. They understand that every contact is an opportunity to solve a problem and help someone to achieve their own objectives." Sound Telecom has always provided top-notch support to its customer, but Edie will take that to a whole new level. Brian Gabriel adds that, "Edie is the kind of person that walks the walk and talks the talk. She spends more time out on the floor than she does in her office. She is constantly working with agents on a personal level while she builds relationships with our customers. She is an ideal leader and exemplifies everything that we stand for as a company."
About Sound Telecom
Sound Telecom is a leading nationwide provider of 24-hour Telephone Answering Services, Contact Center Solutions and Cloud-based Phone Systems professionally serving customers for since 1986 with USA-based agents. For more information, please visit http://www.sound-tele.com.
Contact Information
Michael L. LaBaw, President
Sound Telecom
800-577-1550
http://www.sound-tele.com