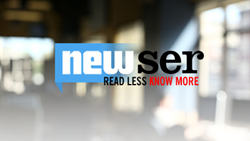 Los Angeles, CA (PRWEB) August 27, 2013
Newsy, the award-winning multisource online and mobile video news service, and Newser, the online news site that presents the day's news in easy-to-digest briefs, today announced that Newsy videos are now available on Newser.com. Each Newsy story is easily accessible via a dedicated video grid, with standout Newsy videos appearing on Newser's homepage grid. Newsy is providing Newser with the player and advertising is provided via Ooyala and Specific Media.
The partnership will make hundreds of compelling videos available to Newser readers each month, presented in the same concise format that they expect from Newser.
"Working with Newser, a leader in the curated news space, to build its digital video library is a dream come true and a natural extension for Newsy," says Newsy President Jim Spencer. "Newsy offers smart storytelling in a video format—¬providing Newser's users an additional way to stay on top of the most important and relevant stories of the day."
What Newser offers in text, Newsy offers in video: Both Newser and Newsy aim to help users navigate information overload. They find important, relevant and often times underreported stories; uncover the most compelling information from multiple news sources; and present the news in easy-to-consume snapshots—offering a service unmatched by other news organizations.
Further, both provide a highly visual experience: Newser's signature grid presents a unique view for discovery, and Newsy videos' infographics enhance its reports with engaging and insightful content.
"Newsy is the perfect solution to our video challenge," explains Newser President Kate Seamons. "We've long wanted to bring exceptional video content to our readers, but struggled to find a partner who understood our very specific approach to delivering the news. Newsy doesn't just get it, it does it, and we're thrilled to offer its short but thorough videos to our readers."
About Newsy
Promising to make you smarter, faster, Newsy (http://www.newsy.com) is a multisource video news service that highlights unique perspectives from across the media spectrum—providing what you need to know about the day's events. Through engaging video news bites available on the web and mobile devices, Newsy offers a broader view in a concise format. Newsy has won two Appy Awards, a Davey Award and a W3 Award. Its highly rated free apps are available to download from the Apple App Store, Google Play, the Windows Phone Marketplace and the Nokia Store.
Newsy produces thousands of innovative videos per month in eight news categories. The videos are distributed widely via its website, partner sites, syndication networks and mobile apps—generating more than one billion views annually.
About Newser, LLC
Newser, LLC (http://www.newser.com), upends the way news is delivered and consumed, making it simple to know more in less time—on your desktop, phone, or tablet. Newser's stories are presented in a one-of-a-kind 'visual news grid' that features only the day's most important and most arresting stories, hand-picked by its editors and written in a short, pithy format.