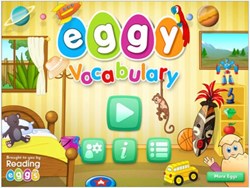 vocabulary development app for early readers
Seattle, Washington (PRWEB) August 27, 2013
Reading Eggs has launched its new Eggy Vocabulary app for the iPad. This unique hidden picture app takes children aged 3+ through 7 visually captivating destinations where they need to hear, read and match words to pictures.
With 252 activities to complete, Eggy Vocabulary takes children through 7 action-packed days of the week, with each day presenting a fun new destination to explore, including the Zoo, Museum, Mountains, School, Beach, Toy Shop and Playground.
In each destination, children read and hear a list of words, and match these words to objects in the destination. These matching activities are designed to equip children with the nouns they will need to describe their everyday environments. Children also develop reading and phonics skills with the app's 7 specially written ebooks featuring illustrations, wordplay and numbers.
The app also includes a range of motivational rewards that children earn when successfully completing activities.
Eggy Vocabulary is available to download from iTunes for $2.99.
About Reading Eggs
Developed by educators with over 25 years of experience, Reading Eggs' online lessons instruct children in the five areas crucial to literacy development – phonemic awareness, phonics, vocabulary, fluency and comprehension. Reading Eggs focuses on a core reading curriculum of skills and strategies essential for sustained reading success and is suitable for children aged 3 through 13. Since launching in the United States and Canada in 2011, Reading Eggs has signed on more than 500,000 subscribers and presented more than 15 million lessons in North America.