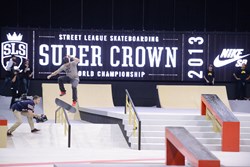 I can't believe it. It's like a dream come true, but I never wanted to dream about it because I didn't want to jinx it. So, it's the dream I never had come true." - Chris Cole
Newark, NJ (PRWEB) August 26, 2013
Monster Energy team rider, Chris Cole has won a hotly fought contest to become the 2013 Street League Skateboarding World Champion. With a lead of just one-tenth of a point heading into the last Impact Section, Cole fought off a hungry field, including his Monster Energy Teammate Nyjah Huston, who took 2nd place less than half a point back. It's Cole's first-ever Street League Skateboarding (SLS) championship win and a 1-2 finish for the Monster Energy team. After the finals, the #Diamondlifeafterparty went down with fellow Monster Energy rider Shane O'Neill taking the win thanks to overall impression.
The 2013 SLS World Tour was made up of six events, all culminating in tonight's winner-take-all Super Crown event in Newark. The final showdown saw the top eight skateboarders from the year batting for $200,000, the largest purse in skateboarding.
Though a podium mainstay with seven 2nd place finishes plus a win at SLS Munich this year, an SLS championship had remained out of Cole's grasp until today. From the start, it was clear Cole was at the top of his game. In the Flow Section, he looked solid with a kickflip frontside tailslide, halfcab to manual, backside 270 lipslide, and a backside tailslide backside flip out (8.7). In the Control Section, he stepped up huge with a frontside blunt backside flip out, earning him a big score of (9.1). Finally, in the Impact Section he sealed the deal: a switch backside nose bluntslide (9.3. His high overall score of 52.8 was dominant meaning his 6th and last run was a victory lap, a rare sight in the highly competitive SLS.
Upon taking the win, Cole said, "I can't believe it. It's like a dream come true, but I never wanted to dream about it because I didn't want to jinx it. So, it's the dream I never had come true."
Meanwhile Huston, who has taken four SLS wins in 2013, looked solid today at the Super Crown Champs on the way to his runner-up finish.
In the Flow Section, his run included a kickflip backside lipslide, kickflip frontside boardslide, kickflip frontside 5-0, back 270 lipslide for an (8.2). In the Control Section a nollie heelflip nose bluntslide meant an (8.7). Finally, Huston excelled as usual in the Impact Section. His battery of tricks included a nollie heelflip backside lipslide (8.5), a back 270 nose bluntslide (9.0), a bigspin front board (8.7), and a backside lip hurricane (9.3). In this nail-biting final, he ended up just four-tenths of a point behind Cole in 2nd place at 52.4.
Visit monsterenergy.com for more on Cole, Huston, O'Neill and the rest of the Monster Energy team. Also visit street.league.com for more on the 2013 Street League Skateboarding Nike SB World Tour.
About Monster Beverage Corporation:
Based in Corona, California, Monster Beverage Corporation is the leading marketer and distributor of energy drinks and alternative beverages. Refusing to acknowledge the traditional, Monster Beverage Corporation supports the scene and sport. Whether motocross, off-road, NASCAR, BMX, surf, snowboard, ski, skateboard, or the rock and roll lifestyle, Monster is a brand that believes in authenticity and the core of what its sports, athletes and musicians represent. More than a drink, it's the way of life lived by athletes, sports, bands, believers and fans. See more about Monster Beverage Corporation including all of its drinks at http://www.monsterenergy.com.