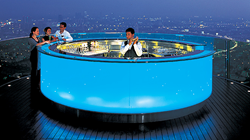 "Up until now there hasn't been a comprehensive guide for everything there is to see and do for foreigners in Bangkok." – Johannes Bergstrom, Founder, BangkokNightlife.com
Bangkok (PRWEB) August 29, 2013
Whether you live in Bangkok or just visiting the city, knowing where to go is not only a great time saver, but it also increases your chances to end up in the right place and ultimately having a good time.
"Up until now, there hasn't been a comprehensive guide for everything there is to see and do for foreigners in Bangkok." – Johannes Bergstrom, Founder, BangkokNightlife.com
With the launch of Bangkok Nightlife (http://www.bangkoknightlife.com), visitor can get weekly reviews, articles, and the latest information of what is going after the sun goes down in the city that never sleeps. Bangkok Nightlife provides the most unique and comprehensive video guide to Bangkok's restaurant, clubs, bars, go-go and cultural scene.
This unique guide of Bangkok Nightlife doesn't just list all the information and show photos of a venue. This innovative website goes a step further and provides the highest quality video for each venue. These are done with meticulous care by the professional staff, and is used to enhance the user experience. Friso, who works as a video Director of the company, explains that the video experience offers the visitor a realistic "feel" for a location before actually visiting the place.
"So I set out to create a website devoted to Bangkok Nightlife, one that was easy to navigate, be it on a laptop, tablet or phone. A website that gives the user the ultimate experience and is updated with fresh reviews, videos and maps. Bangkok Nightlife is the only site you need, to find out what's going on in Bangkok, whether you're looking for a go-go bar or want to know where to catch a play or a Thai movie." – Johannes Bergstrom, Founder, BangkokNightlife.com
Also, what is a unique feature are our up-to-date Happy Hour and Great Deals pages, which provide the visitors with a stream of offers for a week or two ahead of time.
"Bangkoknightlife.com just launched two weeks ago and we are already planning a new skin for the site, new features as well as within two weeks there will be a mobile site, so it is a very exciting future." – Johannes Bergstrom, Founder, BangkokNightlife.com