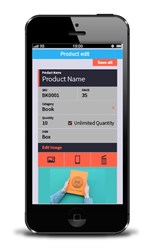 The new Instapps Facebook Store is now simpler to use, more beautiful, and gives you more control.
Kuala Lumpur, Malaysia (PRWEB) August 27, 2013
Instapps is the first made-in-Malaysia Facebook commerce solution application that allows selling-on-the-go from your smart phone.
Recently launched, the new Instapps 3.0 with mobile capability helps individual sellers and businesses to set up an online storefront within their Facebook page. Once set up and published, the Instapps Store appears as a tab on the Facebook page.
Facebook users who have something to sell can use this platform to easily manage their item listings, sales, inventories, payment methods, shipping rates and more within the system.
Instapps started humble three years ago as an application to build Facebook landing pages, and had quickly evolved into a Facebook commerce or f-commerce solution application.
"Instapps was a project under the umbrella of Tribeup Sdn. Bhd., a Penang-based start-up digital marketing agency," said 29-year old CEO Jason Gan. His team currently comprises three programmers, one designer and an operations manager.
The company secured an initial RM400,000 in seed money late last year to fully develop Instapps. Version 3.0 was launched on August 19 in English with a plan for more supported languages in the future.
"The new Instapps Facebook Store is now simpler to use, more beautiful, and gives you more control. It allows for better customized shipping options and fees according to volume, weight and/or distance. We have hundreds of existing users who already received a free upgrade to Instapps 3.0, and I expect some 100 new sign-ups monthly with this latest version. Best part is, Instapps is the only f-commerce platform that supports Facebook stores on mobile phones. And we're going to roll out more mobile enhancements later in October," he said.
For those wanting to test-drive the system, there is a free version for you to display and sell up to eight products via your own Instapps Facebook Store. There are three other packages for monthly or annual subscription that allow up to five stores and unlimited product uploads.
About Instapps Sdn. Bhd.
Instapps Sdn. Bhd. began in 2010 as a developer of social apps tools on Facebook and began fine-tuning their first brainchild Instapps, a Facebook or F-commerce tool, for aspiring online entrepreneurs. For more details, visit http://www.instapps.com.