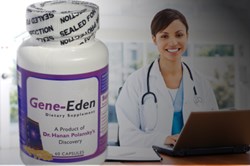 We are very happy that we were both successful in developing a natural product, and in proving that it works through a clinical study that followed FDA guidelines. - Mike Evans, polyDNA
Rochester, NY (PRWEB) August 26, 2013
A new clinical study proves that Gene-Eden-VIR is a safe and effective antiviral treatment (1). The study was published in the peer reviewed, scientific journal Pharmacology & Pharmacy, in a special edition on Advances in Antiviral Drugs.
To be more specific, the clinical study showed that Gene-Eden-VIR "is a safe and effective treatment against the Human Papillomavirus (HPV), Herpes Simplex Virus (HSV), Epstein Barr Virus (EBV), Human Cytomegalovirus (HCMV), and Hepatitis C Virus (HCV) (1)."
This study is unique in the natural, dietary supplement market. Most sellers of dietary supplements do not conduct clinical studies to test the effectiveness of their products since "the law does not consider dietary supplements as drugs, and therefore, does not require the FDA to evaluate the effectiveness of these supplements (1)."
This is one of the first times that a paper was published in a peer reviewed journal reporting a clinical study on a proprietary, patent protected, natural formula.
Mike Evans of polyDNA said "We believe in natural products. There are many untapped opportunities in this field that deserve serious scientific research. We are very happy that we were both successful in developing a natural product, and in proving that it works through a clinical study that followed FDA guidelines. As our mission says, polyDNA aims to develop and sell natural products that are as safe and effective as drugs."
To view the entire paper, visit: http://www.scirp.org/journal/PaperInformation.aspx?PaperID=36101
We invite the media to contact us for interviews at: info(at)buy-gene-eden(dot)com or phone 585-250-9999.
###
References:
(1) http://www.scirp.org/journal/PaperInformation.aspx?PaperID=36101