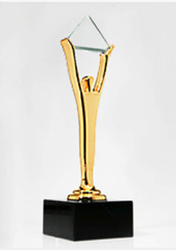 "In response to our user-community, we've added innovations designed to help presenters and audiences engage more fully."
—Simon Grabowski, Implix Founder and CEO

Wilmington, Del (PRWEB) August 27, 2013
ClickMeeting, the leading online meeting SaaS provider, today announced that they captured the Gold Stevie Award in an international competition for software development in the category "Best New Software Version." A 200-member judging panel, consisting of top industry experts, evaluates submissions from companies all over the world.
"In response to our user-community, we've added innovations designed to help presenters and audiences engage more fully," said Implix Founder and CEO Simon Grabowski. "The result is a richer online meeting experience for our customers and their participants."
ClickMeeting will be honored at the 10th annual IBA awards banquet in Barcelona, Spain on October 14, 2013.
About New Version
The judging panel evaluated the following enhancements, all rolled out since January 2012.
Mobile App - Available for Apple, Android and Blackberry, meeting organizers and presenters can perform most functions from a tablet, including scheduling, inviting, and presenting. Mobile attendees enjoy live audio-video streaming, chat, polling and sharing.
Social Invitations – To boost webinar attendance, ClickMeeting API integrations enable users of Twitter, Facebook and LinkedIn to invite followers to meetings and webinars. Participants can accept and log in using social media credentials.
Reminders - Confirmed attendees can receive up to 3 reminders. Participants can set their own custom reminder, to receive a nudge at the perfect time. This helps solve the webinar producer's ongoing challenge of maximizing participation by webinar registrants.
API – Now users can conduct online conferences inside Facebook, promote conferences on their timeline, and send custom invites directly from Facebook, for true community-building,
Audio-Video Options - Participants have options to receive an audio feed through their speakers, via existing Skype account, or by phone. Users can allow their built-in camera to transmit their streaming video or choose an avatar.
DESKTOP SHARING - The ClickMeeting platform was re-engineered using Cloud technology for a faster, smoother user-experience. Presenters can share the full or partial desktop, and use a drawing tool to highlight and notate.
Outlook Plugin - Microsoft Outlook users can now install a plug-in that allows them to enter an ad hoc meeting, schedule future meetings, create and customize invitations, choose contacts to invite, and send the invitations — all inside Outlook.
Languages - ClickMeeting added Spanish, German and Czech to the user panel, and Chinese, Portuguese and Czech to the meeting rooms.
"A platform upgrade of this magnitude required a tremendous team effort," said Implix Founder and CEO Simon Grabowski. "We couldn't be more pleased with the outcome."
All features are included with every service package at no additional cost — including unlimited meetings. Packages are priced according to maximum participants in any single meeting, with affordable brackets ranging from 25 to 1,000 participants.
Follow link to company website for: ClickMeeting 30-Day Free Trial, No Credit Card Required
About ClickMeeting
ClickMeeting was developed by parent company Implix, a leading provider of practical, cost-effective software solutions for small business. With more than 500,000 users, ClickMeeting uses Cloud technology to facilitate face-to-face online collaboration with participants worldwide. For more information, please visit http://www.clickmeeting.com/.