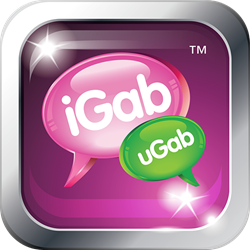 Bringing Mobile Messages to Life.
Hamburg (PRWEB) August 28, 2013
Betahaus, an organization that offers flexible co-working solutions in Hamburg, first opened its doors on 1 July 2010. Since then, it has become not only a place where freelancers, start-ups, students and professors come to exchange ideas, but also a forum for creativity, innovation and networking. Aside from offering flexible workspace to be rented daily, weekly or monthly, Betahaus has also initiated a series of events that promote the basic concept that forward-thinking ideas need to be shared. In line with this concept, the iGab Messenger app was invited to be the topic of a Betabreakfast. The Betabreakfast is an event where all members of the Betahaus are invited to learn about a new idea and to discuss it. Gogekko had the opportunity to present their iGab app at this event.
"When we first got into contact with Betahaus, it became rapidly clear that we share many of the same objectives. They are looking for creative ways to communicate, just as we are. They suggested doing a Betabreakfast and naturally we jumped at the chance," stated co-founder Sabine Hutchison.
Claudia Neumann, co-founder of GoGekko, stated "We were very excited about the turnout for the event and the interest that the participants showed. Betahaus has proven itself to not only be an excellent place to network, but to brainstorm."
About GoGekko GbR
GoGekko GbR is a woman-owned mobile app development company based in Hamburg, Germany. iGab, GoGekko's first 3D voice messenger iOS app available on iTunes, was created to provide a fun and personalized way to send mobile messages, without being manually typed. iGab combines the user's voice with a video animated 3D character to create a one-of-a-kind visual message.
iGab brings mobile messages to life.