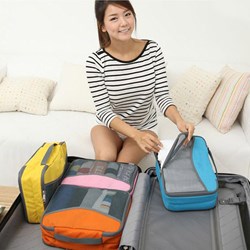 Access and retrieving of items is super easy. Stored items are better protected and neatly organized.
(PRWEB UK) 27 August 2013
Packing organizer cubes are a great way to ensure that travellers stay organized and comfortable whether they are packing for a family vacation or a business trip. Travel and Outdoors is offering these travel packing organizers in different combinations and set variations. To make their competitively priced products even more cost-effective, the company has created a promotion where customers can enjoy 10% off any purchase of these packing organizers when they enter the promotion code: PRSPECIA on checkout: http://www.amazon.co.uk/shops/A1C504PVZS15CR
Neat and tidy, these cubes can be unpacked directly into drawers or a closet at the hotel, so there is no need to live off the luggage even during a short stay. With a variety of colours available, items can be grouped per category or according to the number of people travelling. These packing organizer cubes come in three basic sizes; small (27 X 18 X 6 cm), medium (30 X 22 X 7 cm), and large (35 X 27 X 10 cm).
More often than not, customers prefer a mix of different sizes for packing clothes and equipment in their suitcases. Travel and Outdoors sells each of these separately or in two to four piece mix sets of large and small cubes, which not only ensures great value for money as they sell more cubes for the same price but also makes it extremely convenient for travellers. Customers can choose from a set of four small cubes, or four medium cubes, or four large cubes. The mix set variations include two pieces mix set comprising one small and one large cube and four pieces mix set containing two small and two larges cubes.
While small cubes have a single compartment, the medium and large cubes have double compartments, large enough to pack shirts in one side and pants in the other. The best part is each set includes cubes of the same colour. Apart from clothes and shoes, these travel packing organizers also have a number of others uses. They can also be used to pack adapters and cables or diapers and almost anything that needs to be kept tidy and organized.
For more information about these packing organizer cubes, visit http://www.amazon.co.uk/shops/A1C504PVZS15CR