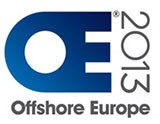 Pittsburgh, PA (PRWEB) August 26, 2013
Industrial Scientific Corporation and Oldham (an Industrial Scientific company) will showcase its wide range of portable and fixed gas detection products and services at the 2013 Offshore Europe conference and exhibition, to be held 3-6 September 2013 in Aberdeen, UK.
The companies will highlight a number of products of interest to experts in measurement and control instrumentation in the offshore exploration industry. Among others, Industrial Scientific's portable gas detection products and services include the new Tango TX1 single gas monitor and iNet - the company's Gas Detection as a Service solution.
Oldham's fixed system range includes the MX 43 analog and digital controller and OLCT 80 Wireless detector, among other products.
Industrial Scientific's and Oldham's industry experts will be located at stand N° 3D81 for one-to-one consultations during the exhibition.
About Industrial Scientific Corporation
Industrial Scientific Corporation is the world's leading provider of Gas Detection as a Service. With more than 965 people working in 22 countries, Industrial Scientific is dedicated to eliminating death in the workplace by the end of this century. Achieving this goal requires dedication to delivering highest quality and best customer service in all transactions. Industrial Scientific also focuses on providing analysis of data from equipment use and maintenance to identify problems before they happen. Industrial Scientific has operations based in Pittsburgh (USA), Arras (France), Dortmund (Germany) and Shanghai (China). The company provides technical services to customers from local service centers around the world, and has additional offices in Australia, Bahrain, Brazil, Canada, Czech Republic, India, Indonesia, Italy, Mexico, Netherlands, Poland, Qatar, Saudi Arabia, Singapore, United Arab Emirates and the United Kingdom. Industrial Scientific is the parent company to Oldham and Predictive Solutions Corporation (http://www.predictivesolutions.com).
About Oldham S.A.S.
For more than 100 years, Oldham has specialized in safety, gas and fire detection systems. Oldham is headquartered in Arras, France and is a subsidiary of Industrial Scientific Corporation. It employs hundreds of people globally and has operations in France, USA, China and Germany. Oldham's mission is to be the best provider of fixed-point gas detection systems worldwide. It offers a wide range of application-driven products, expert advice, and the highest quality and best customer service in all transactions. For more information, visit http://www.oldhamgas.com.