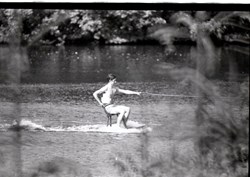 "Whoever buys the collection will be securing a piece of history." - Ray Bellisario
Stockport, Cheshire (PRWEB UK) 26 August 2013
Photographer Ray Bellisario puts his entire archives of over 20,000 photographs and their copyright up for auction for charity. He was dubbed London's first paparazzo, and was so loathed by the Royal Family that Prince Philip suggested sending him to the Tower.
Ray Bellisario - 'that bloody Bellisario!', as Princess Margaret used to call him - was a constant presence at royal events in the Fifties, Sixties and Seventies, taking candid shots of the Queen and her family.
It was the year after the young Queen was crowned in 1954 that the 18-year-old novice photographer, the son of Italian immigrant ice cream sellers, took a picture of her sheltering under an umbrella that was published by several newspapers.
Bellisario realised he was on to something and decided to concentrate his efforts on the Royal Family, but seek something different from the rest of the press pack.
"It was a business decision, nothing more, nothing less, I used a mixture of common sense and contacts. Of course I got tip-offs, but I also thought about things very laterally."
Bellisario used to infuriate Prince Philip, who frequently remonstrated with the photographer in the coarsest of terms, also ensuring that he was blacklisted by most British newspapers (although his pictures were published abroad).
Some of his photographs, such as the one of Prince Charles sitting on a chair while waterskiing on the lake at Sunninghill Park, Windsor, show a fun side to the Royals, rarely seen in public.
Bellisario had been standing on a footpath by the lake when he was approached by Princess Margaret's then husband, Lord Snowdon, who told him: 'If you hang on we'll do something that will really make your pictures. Keep an eye out for the chair!'
Bemused, he waited and soon Prince Charles came whizzing past, sitting on an old chair, which had been balanced on an upturned table, with grinning Snowdon at the wheel of the speedboat.
One of his most well known photographs was of Princess Anne falling off her horse during a competition. He had waited for weeks to get the perfect shot, until he finally snapped Anne flying off her horse, her grimacing face in clear view.
Another controversial shot was a picture of the queen and former King Edward VIII, whose abdication had brought shame to the royal family. Officials denied there was any contact between the pair, but it emerged he was paying daily visits to the Palace gardens while undergoing hospital treatment in London.
Eventually, Bellisario tired of his fights with the Royals and went abroad, earning plaudits for his work covering conflicts in Northern Ireland, the Western Sahara and the Nigerian Civil War.
His work inspired him to set up a charity, Reach For Rights. The auction will fund its work providing a free legal service for those without the means to seek help, including the disabled and victims of domestic violence.
Bellisario, who interestingly appeared on the first ever episode of "Parkinson", such was his notoriety at the time, says "I am saddened that the major part of my professional career's work is about to leave my possession. Deliberately, for my own reasons, it has mostly lain untouched for some 40 years. It has secretly been moved from place to place, as it was not only immensely valuable to me but it represents an incalculable insight into the images that I captured. Some of the photographs are exclusive beyond challenge. Whoever acquires the 'Ray Bellisario Collection' is buying history a piece of history. I am heartened however, that the proceeds of the sale, in going to the charity Reach For Rights (an organisation I founded in March 2012) will be put to good use."
Paul Fairweather of Omega Auctions says "This is a truly remarkable collection and we expect there will be significant interest not only in the UK but worldwide. It is such a unique collection with nothing ever having come up for sale previously to compare it to. In terms of value, we are hoping for in excess of £500,000."
The entire collection, to be sold with full copyright, goes under the hammer on October 10th in Central London although private offers for the collection — which includes thousands of pictures of other public figures such as Winston Churchill, Brigitte Bardot, Charlie Chaplin, Peter Sellers and the Kennedy family — are also being invited.
Photographs provided are copyright Ray Bellisario and may be used for editorial use only relating to the auction until 10th October 2013.