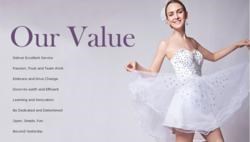 (PRWEB) August 26, 2013
Today, Dresses1000.com, a well-known wedding dress manufacturer and supplier, released its new arrivals of designer Quinceanera dresses (http://www.dresses1000.com/designer-quinceanera-dresses_c47) and announced great discounts on these new designs, up to 64% off.
The Quinceanera dresses from Dresses1000.com are specially designed with the trendy designs, quality materials and fine tailoring. These new dresses follow fashion trends while staying true to classic and unique taste and style. As a pioneer in the industry, Dresses1000.com is dedicated to customer service and ensures that every girl can have an elegant look.
"We are excited to launch this promotion, and our customers now have an even wider selection of Quinceanera dress options to choose from," said, Sherri Wang, CEO of the company. "It is important to expand our online market share through such a promotion as well, and we have much experience in the fashion industry. Thank you everyone!"
In addition to the exclusive collection of designer Quinceanera dresses now available at Dresses1000.com, every customer receives free, flat rate shipping on orders over $200 as well as a free gift with every order. Furthermore, the company also provides custom wedding dresses based on the requirements of customers.
About Dresses1000.com
Dresses1000.com is a leading manufacturer and retailer of all kinds of women's dresses (wedding dresses, bridesmaid dresses, and more). Its mission is to 'make ladies more attractive' by offering stylish and high-quality women's dresses to each woman. The company is trying to offer their customers more choices with affordable prices.
For more information, please visit: http://www.dresses1000.com/