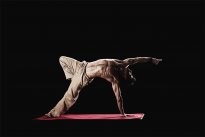 YogaVibes not only offers classes from some of the best, it also offers the best teachers from many different systems of yoga. I'm honored to be a part of the team!
Charlotte, NC (PRWEB) August 28, 2013
YogaVibes is honored to announce its partnership with Sean Gray, a Vinyasa yoga teacher based in Santa Monica, California.
Sean holds a space where the practitioner can courageously journey through the practice, deeply connecting with the breath each pose along the way. His online yoga classes safely challenge students in every aspect of the practice - physically, energetically, mentally, and emotionally. By maximizing time, staying focused and present on each breath, Sean inspires breakthroughs in the practice and delivers lasting results. He teaches his students to accept limitations, move beyond them, and perceive challenges as life lessons rather than setbacks.
Why YogaVibes?
"I decided to team up with YogaVibes to shoot some online yoga videos because I believe there is a sea of potential yogis out there that are just waiting for the right teacher for them to come along," says Sean. "I've always been grateful for all the amazing teachers that are in my area, how I get to choose from the greats who I'm going to practice with on a daily basis, and now with online yoga classes the rest of the world can do the same. And YogaVibes has classes from some of my absolute favorites. I believe online yoga will be the introduction for many who wouldn't normally take the first step onto their yoga mats in a classroom for whatever reason, making yoga much more accessible for a lot of people by being able to go at their own pace in the their own spaces. YogaVibes not only offers classes from some of the best, it also offers the best teachers from many different systems of yoga. I'm honored to be a part of the team!"
To get a feel for Sean's teaching style, check out one of his popular online yoga videos on YogaVibes: Get Up & Go!
This Vinyasa online yoga class allows students to receive a full practice amidst a busy day. It is designed to promote an opening of some major areas of the body – the spine, hips, and shoulders. Students can expect to sweat, activate the core, restore balance, get the heart pumping, focus the mind, and build lots of energy through deep, concentrated breathing. (45 mins.)
Visit Sean Gray on YogaVibes to find an on-going collection of his strong, full-length Vinyasa yoga classes.
ABOUT SEAN GRAY
Sean Gray's practice is focused on the expansion of all aspects of the self. By allowing the breath to bring awareness into the body and into the practice - within the movement, within the breath, within the stillness - the practice begins to reflect personal challenges to help promote development and healing. It may be an uncomfortable ride from time to time, but there is no growth in comfort, and Sean doesn't step onto his mat to be comfortable. To learn more about Sean, visit his website: http://www.seangrayyoga.com.
ABOUT YOGAVIBES
Looking for the best online yoga classes? Look no further! YogaVibes.com is an online realm for high-quality, authentic yoga classes and instructional videos captured in a real studio with real students. YogaVibes offers a diverse selection of online yoga classes from the best yoga teachers in the world, making learning and living yoga easy in everyday life. YogaVibes' mission: To create a supportive, challenging, and welcoming online community of passionate and inspiring yogis.