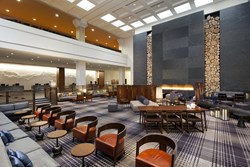 We are excited to unveil a second round of multi-million dollar enhancements that reflect the unique heritage of Minnesota.
Minneapolis, MN (PRWEB) August 27, 2013
Hyatt Regency Minneapolis, one of the largest hotel properties in the Twin Cities, today announced the completion of Phase II of its renovation. Phase II included a major expansion, adding over 20,000 square feet of event space and an additional 112 new guestrooms and 54 high-end suites. Phase I of the renovation of the hotel's guestrooms, suites, public areas and restaurants was completed in June 2012. The entire project was funded and conducted by a joint-venture of affiliates of Starwood Capital Group, Haberhill and Hyatt Hotels. New York-based Stonehill & Taylor was responsible for the architecture and interior design and MP Johnson Construction Inc. was the construction firm.
"We are excited to unveil a second round of multi-million dollar enhancements that reflect the unique heritage of Minnesota," said Mark Becker, general manager, Hyatt Regency Minneapolis. "The largest event space in the city and new guestrooms and suites allows Hyatt Regency Minneapolis to attract even more meetings and conventions, as well as accommodate leisure travelers."
Now that Phase II is complete, Hyatt Regency Minneapolis boasts over 100,000 square feet of flexible meetings and event space, allowing two or three functions to take place simultaneously. The additional meeting space includes flexible breakout rooms ranging from 400 square feet to 4500 square feet and two new ballrooms: Northstar and Great Lakes. The stunning new spaces feature a sophisticated Scandinavian-inspired aesthetic with top-of-the-line furnishings, original artwork and chic, modern décor. The two-story 12,000 square foot Great Lakes Ballroom has large pre-function, meeting and breakout rooms and private bathrooms. The Great Lakes Ballroom design incorporates elements of the unique heritage of Minneapolis, such as 9.5 foot wide light fixtures made of painted gold yarn, a reference to the wool mills that dot the state. The Northstar Ballroom is a 10,500 square foot event space with floor-to-ceiling windows overlooking the lovely Loring Greenway. The stunning Lakeshore meeting room features a custom fabric mural, a wall-to-wall panorama of Minneapolis' three famous mills - Gold Medal Flour Mill, Crown Roller, and North Star Mill – as a celebration of the local economy.
The new suites incorporate high-level finishes, artwork by local artists and materials manufactured in North America. The living room area features vivid hues inspired by Minnesota's landscape of lakes and rivers. Custom-made, high-end furniture is arranged in seating groups, upholstered with luxury fabrics. Other highlights of the new suites include a plush vibrant blue sofa, hardwood floors, a bar with glassware and a sink, and a luxurious bathroom with a powder room.
As they did with Phase I of the renovation, designers at Stonehill & Taylor set a goal to support North American manufacturing with the majority of the design products made in North America. "Our main goal for the design was to create a beautiful hotel that is socially sustainable, thus supporting the local economy and jobs," said Michael Suomi, principal and VP of interior design at Stonehill & Taylor. "The success of our comprehensive Phase I renovation led the way to a new phase of renovation focused on creating higher-end accommodations and large event areas that support this goal and make this the premiere hotel in Minneapolis."
About Hyatt Regency Minneapolis
Hyatt Regency Minneapolis, 1300 Nicollet Mall, is a convention center hotel located in the heart of downtown Minneapolis. The property features 645 rooms, 100,000 square feet of flexible function space, a full service business center, WIFI Internet access, renowned dining outlets, an indoor heated pool and a new health club. The hotel's prime location on Nicollet Mall allows guests to easily explore an incredible array of Twin Cities' attractions from shopping to sports and anything in between. To book, call 800.233.1234 or visit http://www.minneapolis.hyatt.com.
About Hyatt Regency
Hyatt Regency offers a full range of services and facilities tailored to serve the needs of meeting planners, business travelers and leisure guests. Properties range in size from 180 to over 2,000 rooms and are conveniently located in urban, suburban, airport, convention and resort destinations around the world. Hyatt Regency convention hotels feature spacious meeting and conference facilities designed to provide a productive environment allowing guests to convene and connect. Hyatt Regency hotels in resort locations cater to couples seeking a getaway, families enjoying a vacation together and corporate groups seeking a functional and relaxed atmosphere in which to conduct business and meetings.
About Stonehill & Taylor
Stonehill & Taylor is an architecture and interior design firm based in New York City. With primary specialization in hospitality, healthcare, research and academic institutions, the firm uses a collaborative approach to produce unique design stories. Stonehill & Taylor was ranked 2012's top NY design firm in the hospitality sector by ENR. Firm's successful projects range from interior design to architecture, new building construction, historic preservation and renovations, including: The Refinery Hotel, The Paramount, The Crosby Street Hotel, The NoMad Hotel, Hyatt Regency Minneapolis, The Ace Hotel, The President Hotel and the new Hyatt House brand. Stonehill & Taylor has designed the highest number of LEED certified hotels in New York and the first LEED Gold hotel with the Crosby Street Hotel. For more information about the company, visit: stonehilltaylor.com.
About Starwood Capital Group
Starwood Capital Group is a private, U.S.-based investment firm with a core focus on global real estate. Since the group's inception in 1991, the firm has raised over $20 billion of equity capital and, through its various funds, has invested $16 billion representing over $41 billion in assets. Starwood Capital Group currently has $26.3 billion of assets under management. Starwood Capital Group maintains offices in Greenwich, Atlanta, San Francisco, Washington, D.C., Los Angeles, Chicago and Miami, and affiliated offices in London, Luxembourg, Paris and Sao Paulo. Starwood Capital Group has invested in nearly every class of real estate on a global basis, including office, retail, residential, senior housing, golf, hotels, resorts and industrial assets. Starwood Capital Group and its affiliates have successfully executed an investment strategy that includes building enterprises around core real estate portfolios in both the private and public markets. Additional information about Starwood Capital can be found at starwoodcapital.com.
About Haberhill
Haberhill is a real estate investment and advisory firm focusing on the lodging and hospitality sector. The firm generally focuses on full-service hotels in locations where long-term real estate value creation is an important component. Through on-going relationships between Haberhill and various capital partners, the firm has co-invested in seven full service hotels with a total value in excess of $650 million, including over $80 million of equity capital. Additional information about Haberhill can be found at haberhill.com.
About MP Johnson Construction Inc.
MP Johnson Construction Inc. is a construction based firm that operates in the Twin Cities greater metropolitan area of Minnesota. Since 1988, they have developed a diversified background in commercial and industrial construction, our experience ranges from high-end, ground up construction to the renovation of the existing retail, hotel, restaurant and office environments to the development of warehouse space. Additional information is available at mpjohnson.com.