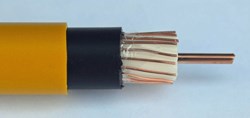 Safety is critical in mines and tunnels, now an excellent quality cable exists for VHF radio systems.
Aurora, Illinois (PRWEB) August 27, 2013
AIR802 is pleased to announce CA610LF75, a new leaky feeder coaxial cable for 150 MHz VHF systems. This type of cable is widely utilized by mines worldwide in addition to use in tunnels, metro stations and in-building wireless systems.
Our latest cable supports up to 450 MHz systems. It has been approved by the Mine Safety Health Administration (MSHA). The jacket construction is Low Smoke Zero Halogen (LSZH). Halogen is found in many fire retardant cables however it produces very toxic fumes. In addition halogens when combined with moisture produce acid dangerous to humans and equipment. Thus the use of AIR802 CA610LF75 zero halogen leaky feeder cable is a more environmentally friendly option providing safety to miners and others in the event of a fire.
The CA610LF75 leaky feeder cable has 75 ohm impedance and a yellow jacket with a 15.5 mm outer jacket diameter. Click here to see the full specifications.
This cable is currently in stock at AIR802 in Illinois and in Santiago, Chile. This new Low Smoke Zero Halogen jacket with Mine Safety Health Administration (MSHA) approval and is excellent to replace existing cabling or for new installations.
About AIR802
AIR802 was established in 2005, manufactures wired and wireless networking technology with a focus on antennas, cable, connectors and power-over-Ethernet (PoE) products. AIR802 is known for strong ethics, quality products, innovative engineering and rapid same-day shipping services.