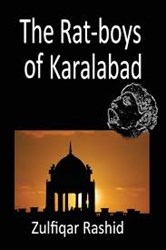 San Diego, CA (PRWEB) August 27, 2013
In the new novel "The Rat-boys of Karalabad," Pakistan native Zulfiqar Rashid looks at Southeast Asia's begging industry through the eyes of a child destined to inherit the position of "saint" at a religious shrine. The story is fiction, but the shrines across the region, and the purposefully disfigured child beggars forced to work at them, are very real, Rashid says.
"I want to bring awareness of the organized begging industry and child exploitation in Pakistan, India and Bangladesh, and bring an end to this practice," says Rashid.
His novel is told from the perspective of Omar, a boy taken from his family to be raised as the son of Pir Sahib, the "saint" of the Shrine of Karalabad. The faithful come to the shrine to ask Pir Sahib's help in getting their prayers heard by God, and in return, they give him "donations" of money, jewelry and gold.
Like shrines across Southeast Asia, this one is also a thriving child exploitation business manned by beggar children, the pawns of an organized industry. The religious faithful who visit the shrines believe that giving money to the beggars will help speed along their prayers; the children with the most pronounced disabilities get the most money.
Omar stands to inherit the "throne" of Pir Sahib, to become the saint of the shrine. He is kept sheltered and mostly innocent of the child exploitation that is part of the life of the shrine until he meets a "Rat-boy." This is a boy whose head and limbs were tightly bound when he was very young, leaving him disfigured and brain-damaged – rat-like in appearance. But the Rat-boy who Omar meets has managed to retain some intellect, and their meeting changes the course of Omar's life.
"Rat-boys are real – it's a particularly cruel form of child exploitation. They do not live long lives," says Rashid, who grew up in both Pakistan and France and continues to travel regularly to his native country. "Religion can be used as a tool for manipulation and personal gain, and it happens all over the world. In rural areas of Southeast Asia, the people are illiterate and religion is very important to them. Feudal landlords use that to control them."
"The Rat-boys of Karalabad" is Rashid's first novel.
About Zulfiqar Rashid
Zulfiqar Rashid was born in Pakistan, and now resides in southern California. As a regular contributor to various newspapers, Rashid has written extensively, recounting his travels to Pakistan, and about major figures in the Pakistani artistic and cultural scene. Rashid is also an accomplished artist and calligrapher, whose art has been featured in the San Diego Union Tribune. His works have been exhibited at galleries in San Diego, Del Mar, and La Jolla, as well as the San Diego Art Institute and the San Diego Port Authority's "I Madonnari" festival. For more information, visit http://www.zulfiqarrashid.com/.