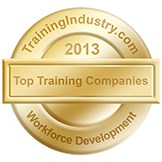 This year's Top 20 represents a top tier of training providers
Cary, NC (PRWEB) August 27, 2013
View the 2013 Top 20 Workforce Development Providers List
The 2013 Top 20 List recognizes the top workforce development providers in the training industry and is designed to help buy-side organizations search for the right training partner. Selection to this year's Top 20 List was based on the following criteria:

Industry visibility, innovation and impact
Capability to develop and deliver customized corporate training services
Depth and breadth of subject matter expertise
Organization size and growth potential
Quality of clients
Geographic reach
"The providers selected for this year's Top 20 are a unique group of organizations focused on meeting the needs of corporations in developing the workforces. They need to compete in today's competitive global market," said Ken Taylor, Chief Operating Officer, TrainingIndustry.com.
"This year's Top 20 represents a top tier of training providers," said Doug Harward, Chief Executive Officer, TrainingIndustry.com. "These companies leverage their expertise and market awareness to deliver comprehensive training solutions for their clients."
View the Top 20 Workforce Development Providers List Here, or click on the link below:
http://www.trainingindustry.com/workforce-development/top-companies-listings/2013/2013-top-workforce-development-providers.aspx
TrainingIndustry.com spotlights the latest news, articles, case studies, and best practices within the training industry. Our Top 20 & Watch Lists are based on extensive research and designed to help companies find the right training partner.
For additional information on TrainingIndustry.com Top 20 Companies email info(at)trainingindustry(dot)com or visit http://www.trainingindustry.com.