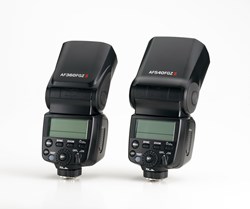 Denver, CO (PRWEB) August 27, 2013
Continuing its heritage of producing high-performance, rugged and weather-resistant imaging products, Ricoh Imaging Americas Corporation (Ricoh Imaging) today announced the launch of the new AF540FGZ II and AF360FGZ II flash units for PENTAX branded interchangeable lens cameras. The introduction of these two new flash units extends Ricoh Imaging's impressive family of weather sealed products.
As the final component in Ricoh Imaging's comprehensive weather-sealed DSLR system, photographers are now equipped with capable tools that embolden them to extend the boundaries of outdoor photography. The new AF540FGZ II and AF360FGZ II were designed with the active photographer in mind and feature significant upgrades like the PENTAX original weather sealing (AW) technology and a new constant light source, making them as robust and versatile as the PENTAX weather-sealed DSLRs and lenses that they will accompany.
"Ricoh Imaging continues to refine our capabilities when it comes to producing products that enhance the photographic experience for our customers," said Jim Malcolm, Executive Vice President, Ricoh Imaging. "The introduction of the AF540FGZ II and AF360FGZ gives consumers access to a complete weather-sealed system which will enable them to approach photography with one less limitation in mind, thereby defining a new behaviors while reducing the boundaries for photographers."
With guide numbers of 178 at ISO 100/ft (54 at ISO 100/m) and 118 at ISO 100/ft (36 at ISO 100/m), respectively, the AF540FGZ II and AF360FGZ II flashes provide a variety of advanced flash applications, including P-TTL auto flash, high-speed synchronization and wireless P-TTL auto flash. Additionally both units feature a LED light to act as a constant light source for video and long exposure photography, while quick recycle times of five seconds on the AF540FGZ II and two-and-a-half seconds on the AF360FGZ II ensure that a shot is never missed.
Pricing and Availability
The AF360FGZ II and AF540FGZ II will be available for purchase at http://www.us.ricoh-imaging.com and retail outlets nationwide in September 2013 for the suggested retail price of $429.95 and $629.95, respectively.
Major Features:
1. Dependable weather-resistant construction for demanding outdoor shooting
With 28 seals applied to crucial parts of the body, including the hotshoe, the new AF540FGZ II and AF360FGZ II feature highly dependable weather-resistant All Weather (AW) construction. When coupled with a PENTAX weather-sealed DSLR camera body and lens, the user can create a highly reliable weather-resistant digital imaging system that assures solid performance even in harsh outdoor conditions, such as in the rain or at locations subject to splashes and dust.
2. LED light convenient for movie and still-image recording
Both models incorporate a newly designed, high-intensity constant light LED. This white LED light comes in handy not only for close-distance movie recording, but also for still-image shooting requiring extended exposures. It also functions as a catch light in portraiture and an AF assist light in the dark.*

The AF assist light function is available with 645D, K-r, K-5, K-30, K-5 II, K-5 II s, K-50 and K-500 camera bodies. The camera's firmware must be updated to the latest version to support this function.
3. User-friendly function settings
The user can customize the flash operation by presetting as many as nine different flash functions to their preference, including the on/off of the catch-light function using the LED light and the choice of the flash discharge mode in still-image shooting.
4. Versatile flash control system
Both models provide a variety of flash discharge modes,** ranging from the advanced P-TTL auto flash mode in which the flash's preliminary emission is detected by the camera's light sensor to accurately control the main discharge level for proper exposure, to manual flash, high-shutter-speed synchronization and wireless P-TTL auto flash.
** Available flash discharge modes may vary depending on the camera body in use.
5. Other features

Bounce flash function, adjustable to angles of -10 to 90 degrees vertically and up to 180 degrees horizontally (new in the 360-series flash)
Power-zoom flash to cover angles of view from 24mm to 85mm lenses (in 35mm format)
Built-in wide-angle panel that slides out to cover 20mm angle of view (in 35mm format)
Automatic setting of discharge angle in combination with a PENTAX interchangeable-lens digital camera body
Multi flash emission function available
Shorter battery recharge time
♦Design and Specifications are subject to change without notice.
| About Ricoh Imaging Americas Corporation |
Ricoh Imaging Americas Corporation is a subsidiary of Ricoh Company Ltd., a global technology company specializing in office imaging equipment, production print solutions, document management systems and IT services. Headquartered in Tokyo, Ricoh Group operates in about 200 countries and regions.
The company now known as Ricoh Imaging Americas Corporation was originally founded in 1919, under the name Asahi Optical Joint Stock Co. and launched its first SLR camera in the 1950s under the PENTAX name. Today, Ricoh Imaging Americas Corporation continues to produce the heritage-rich, award-winning line of PENTAX DSLR cameras, lenses and sport optics equipment as well as Ricoh's offering of stylish and compact digital cameras, known for their wide-ranging, rich set of features.
For further information, please visit http://www.us.ricoh-imaging.com
© 2013 Ricoh Americas Corporation. All rights reserved. All referenced product names are the trademarks of their respective companies.
Contact:
Amber Renard
Ricoh Imaging Americas Corporation
(303) 728-0255
amber.renard(at)us.ricoh-imaging.com