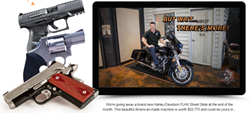 ... this is the most exciting promotion we've ever done.
(PRWEB) August 28, 2013
The United States Concealed Carry Association recently announced a new giveaway contest that will last until August 30. In honor of the 110th anniversary of Harley-Davidson, they are offing the grand prize of a 2013 Harley-Davidson FLHX Street Glide in the hottest color of the year – Midnight Pearl. Plus, the bike is fully loaded. Options include a 103" motor, anti-lock brakes, cruise control, great sound and security systems, plus a hefty 6 gallon tank.
According to Chaz Hastings, owner of Milwaukee Harley-Davidson, which supports the contest, the winner will have, "…everything you need to get on the road."
Also included in the August contest are 10 handguns, which will also be given away, every other day during the contest. Participants are eligible to win not only the Harley, but a gun, or even both prizes.
The first gun given away on August 12 went to Stephen W. from Virginia, who won a Khar MK9 Elite, valued at $932 US. Though the USCCA will not be shipping guns, each winner will receive a check in the amount the MSRP of that day's gun. Other concealed carry weapons given away include a 9MM Baby Desert Eagle II, valued at $616; a Smith & Wesson Governor, valued at $769; and a Glock G30S Sub-Compact .45, valued at $637.
Contestants can enter the giveaway these three ways:
1. Become a member of the United States Concealed Carry Association
2. Subscribe to Concealed Carry Magazine, the well-respected Delta Defense, LLC publication
3. Buy Lt. Col. Dave Grossman and Stephanie Rogesh's new book -- Sheepdogs: Meet Our Nation's New Warriors.
All of these purchases are backed by Delta's Bulletproof, 365-day, 100% money-back guarantee, though no purchase is necessary to enter the contest.
This giveaway falls in line with the USCCA's mission to "Educate, Train, Equip, and Insure," and as President or USCCA and Publisher of Concealed Carry Magazine, Tim Schmidt said, "We all know that carrying concealed is very serious and we all know that I like to do fun promotions, and I gotta tell you that this is the most exciting promotion we've ever done."
To learn more about the contest, visit http://www.usconcealedcarry.com/harleydavidson where you can sign up to become a member of the USCCA, subscribe to the magazine, or buy the book. You can also review the contest full rules, which is open only to legal residents of the United States and the District of Columbia, who are 21 years of age or older at the time of entry.
About Delta Defense, LLC:
Delta Defense LLC, founded in 2004, is committed to supporting and educating responsible Americans who carry concealed. It produces a print magazine, an online membership site, a private members-only concealed carry forum, a rapidly growing Facebook fan page, a 100% free e-publication called the Concealed Carry Report, and a nationally syndicated radio program—Armed American Radio. For more information, visit http://www.USConcealedCarry.com.