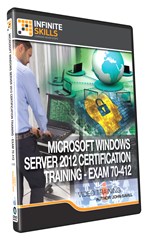 Prepare for Microsoft Windows 2012 Exam 70-412 at your own pace
(PRWEB) August 28, 2013
Software training firm Infinite Skills Inc. last week introduced its "Microsoft Windows 2012 Certification - Exam 70-412 Training Video," a course designed for IT professionals seeking certification in advanced-level administration of Windows Server 2012.
According to Microsoft, the exam tests a candidate's ability to perform advanced configuration tasks involved in deploying, managing, and maintaining a Windows 2012 system. Critical concept areas include fault tolerance, certification services, and identity federation.
Infinite Skills' "Microsoft Windows 2012 Certification - Exam 70-412 Tutorial," which is offered at a discounted rate bundled with the introductory course, sets potential candidates down the road to mastering these difficult concepts. Although candidates must devote significant time experimenting in their own lab environments in order to learn administrative problem solving, the tutorial provides an essential framework, explaining critical skills and technical issues of target areas.
Microsoft Windows Server 2012 Certification - Exam 70-412 Tutorial Video
Course author John Savill is a senior contributing editor at Windows IT Pro Magazine, and author of five books on various Microsoft products. Savill has worked with Windows systems professionally since Windows NT 3.1. He currently holds the Certified Solutions Expert in Windows Server 2012 Server Infrastructure credential among other certifications.
Here, Savill's expertise in both network administration and Windows certification standards bring to life highly technical concepts such as configuring web-based apps, certification services, and rights management, as he vividly details how to use Server 2012 as platform for integration between multiple organizations.
Savill begins by explaining the full scale of capabilities for network management in Server 2012, looking at the DHCP, DNS, and iPAM protocols. He then moves into active directory architecture and its functions, exploring how to configure trust relationships, SID filtering, and advanced sites and subnets, among other topics.
Other key concepts include federating services, certificate services, rights management, dynamic access control, and advanced file services. Savill also looks at how to provide high availability on a Server 2012 network, work with virtualization, and execute disaster recovery measures.
"In this course, our goal is to move beyond basic permissions to advanced capabilities," Savill explains, "providing really granular control of Server 2012's functionality while minimizing the administrative overhead."
"If you are into the certification track, this course is focused around that curriculum. But it's not solely focused on the content, what is more important is that IT professionals learn to use the technology. So the course provides the ability to experiment and implement solutions in your own lab so you can learn to ask questions, experiment, and solve problems."
Free demo videos and a full list of course contents can be found on the Microsoft Windows Server 2012 Certification - Exam 70-412 Tutorial training page of the Infinite Skills website:
http://www.infiniteskills.com/training/microsoft-windows-server-2012-certification-training-exam-70-412.html/.
Infinite Skills offers its Microsoft Windows Server 2012 Certification - Exam 70-412 Tutorial either as a DVD or a direct download from the company website at a retail price of $99.95. The course is also available bundled with the introductory "Microsoft Windows Server 2012 Certification - Exam 70-411," at a discounted rate of $149.95. All Infinite Skills titles and formats are compatible with both Mac and Windows operating systems, and shipping is available around the globe. Infinite Skills tutorials are supported by project files which correspond to examples in the videos.
About Infinite Skills Inc.
A leader in the field of software training, Infinite Skills strives to offer the highest quality training available at an affordable cost. Infinite Skills tutorials are task-oriented instructional videos, teaching complex skills by providing hands-on examples, guiding users as they carry out critical objectives. Infinite Skills offers a comprehensive range of software titles available as DVDs, digital downloads, and iPad editions, keeping with company aim of delivering professional training to customers anywhere they want to learn.