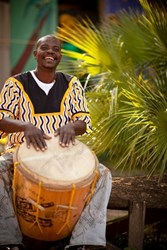 Placencia, Belize (PRWEB) August 28, 2013
Garifuna Settlement Day is a public holiday in Belize, celebrated each year on November 19. The holiday was created by Belizean civil rights activist, Thomas Vincent Ramos, in 1941. It was recognized as a public holiday in the southern districts of Belize in 1943, and declared a national holiday in 1977. The holiday celebrates the settlement of the Garifuna people in Belize after being exiled from the Grenadines by the British army.
The Garifuna of Belize culture is a vibrant and colorful one and will be on full display all around the country with special attention in villages such as Seine Bight in southern Belize on the Placencia Peninsula. Seine Bight is a coastal village located five miles north of Placencia and stretches out along four miles of the Placencia Peninsula. The village got its name from the seines which are a type of fishing net which are used by fishermen in the village for catching, drying, and salting their fish. The word "bight" refers to a depression in the coastline.
The Garinagu first settled in Seine Bight in 1869. Today, Seine Bight has a population of over 800 people. Garifuna Settlement Day is celebrated for a whole week including parades, live music, drumming, dancing, prayers, Garifuna mass and election of Miss Garifuna, followed by a long holiday weekend of celebration, entertainment and special meals held at Chabil Mar. "To mark this very special day in Belize History, says Mr. Synescio Coh, the General Manager of the resort in Placencia Village, we will compliment the celebrations being held in Seine Bight, with entertainment on our beach along with special Garifuna dishes at lunch and dinner, created specifically to honor this day in Belize. And, in addition, our guests will have easy access to celebrations in Seine Bight, just six miles north of us as we will be providing transportation for them to enjoy it at their leisure. We invite all, to not only join us at Chabil Mar and Seine Bight for the celebrations, but learn more about this beautiful culture from some of our staff and first hand at the celebrations."