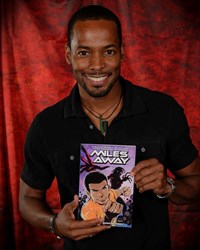 My dream was to create a compelling character, who happened to be a superhero and who happened to be black, but who would be relatable to the masses. Color doesn't matter in my Miles Away universe.
(PRWEB) August 27, 2013
"Don't put all your ranking officers in one shuttle craft" is a lesson Star Trek: Enterprise's Anthony Montgomery learned well during his time aboard the Enterprise NX-01. Best known for his portrayal of Ensign Travis Mayweather in the Paramount Pictures Science Fiction TV series, Montgomery is an actor, writer, producer, graphic novelist and rap artist who is already light-years into establishing his own multi-media company.
Maintaining the same sense of wonder and boundless enthusiasm that his character Travis embodied, the multi-talented Montgomery is plotting a new, hip and edgy action-adventure sci-fi franchise that appeals to core Star Trek fans and young fantasy aficionados alike.
Since his days starring in Star Trek: Enterprise, Montgomery continues to appear on TV and has made appearances in series such as Baby Daddy, Grey's Anatomy, Single Ladies, The Client List, General Hospital, House M.D. and NCIS.
Not limited to the universe of the small screen, Montgomery also traversed back into the world of film, playing the title role in 2007's romantic comedy I'm Through with White Girls (The Inevitable Undoing of Jay Brooks) and producing and starring in 2013's independent suspense thriller Chariot.
Musical talent also happens to run in the family. Montgomery is the grandson of legendary jazz guitarist Wes Montgomery (1925-1968), who was inducted into the Big Band and Jazz Hall of Fame in 1983. Seven years ago, Montgomery signed with the Germany based AGR Television Records and Executive Produced and released his Hip Hop/Rap debut album titled, A.T. Before releasing his debut album, he produced an EP CD, What You Know About..., featuring four songs about science fiction themes.
Montgomery is launching his new sci-fi franchise, Miles Away, starting with an all-ages graphic novel series, which released April 24, 2013. The story is set in the future (2089) and follows incredible young Maxwell Miles, a shy 16-year-old with a clouded past who develops a superhuman ability (Super Photographic Reflexes), gets recruited by a shadowy organization to battle an evil entity and her minions, allies with alien refugees and falls into an interstellar war as he explores his family's dark past. Max battles evil on two worlds – FUTURE EARTH and RO-TWYLA. Max and his companions travel the universe and meet extraordinary beings with phenomenal abilities, learning valuable life lessons along the way.
In an interview with Irish sci-fi writer Owen Quinn of the Time Warriors, Montgomery admits that he always had a vivid imagination. "I grew up in an abusive home and my imagination was the only way for me to escape the pain of my everyday life. I used to love to escape into the world of comics and all the different adventures they would take me on," Montgomery said. "As I got older and realized that science fiction was a wondrous way to escape, tell amazing stories AND deliver powerful messages, I decided that one day I would create something of my own in the science fiction genre."
Miles Away offers unique educational content tailored to children and also adds an African-American superhero to the ranks. There are currently no other African-American superhero shows on the air. "I never created Miles Away so I could create a 'black superhero,'" Montgomery said. "My dream was to create a compelling character, who happened to be a superhero and who happened to be black, but who would be relatable to the masses. Color doesn't matter in my Miles Away universe. As Max pieces together his past, I feel that readers will identify with him because everyone will relate to Max's desire to know where he comes from and know his own history. And they'll have a lot of fun watching the birth of a superhero!"
Montgomery plans for the epic scope of the franchise to ultimately span across three mass media outlets: graphic novels, animation and live-action feature films. True comic enthusiasts who like to acquire their material in sets are assured that there will be more graphic novels down the road, but the animated series will pick up the storyline immediately after the first book; then the second book will continue the story from the animated series, and so on, creating an exciting trans-media roller coaster that will ultimately lead to the franchise's evolution into live-action feature films.
Since the April release, Montgomery has promoted Miles Away around the world, beginning in Los Angeles and Burbank, California, traveling to Dusseldorf, Germany, Sydney, Melbourne and Perth, Australia, Denver, Colorado, and Las Vegas, Nevada at the 12th Annual Official Star Trek Convention hosted at The Rio Suites Hotel. Dallas sci-fi lovers can get their own autographed copy of Miles Away at Zeus Comics on Inwood, where Montgomery is solidifying an appearance scheduled before the end of the year. Montgomery is also negotiating appearances in the U.K., Canada and Ireland.
______________________________________________________________________________
Anthony Montgomery's experience has earned him a solid reputation as an American television and film actor, producer and now graphic novelist. Lists of projects, media, bio, photo galleries and more are available. Contact MontgomeryMedia5(at)gmail(dot)com.