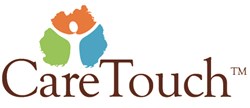 Other companies are scrambling to come up with a collection solution and CareTouch Collect has already seen tremendous success in the past year.
Denver, CO (PRWEB) August 27, 2013
CareTouch Communications, Inc. announced the one-year anniversary of CareTouch Collect™, a comprehensive program for healthcare providers that reaches out to patients who have an account balance and provides alternatives for them to bring it current. CareTouch Collect contacts patients and connects them directly with their provider, devises a payment plan, or secures payment while on the call.
The program is a simple and affordable way for healthcare providers to manage accounts receivables and keep patients happy with their provider services. Through an automated IVR or highly-trained call center the patient is contacted and reminded of their account status. The patient is given the option to set up a payment plan, make payment immediately, or be transferred directly to the healthcare provider to make the payment. CareTouch Collect works with providers' existing practice management system to maximize patient pay.
"With the closing of Invacare HCS at the end of this month, other companies in our space are scrambling to come up with a solution. These solutions can take a long time to develop and perfect," said Matthew Dolph, CareTouch COO. "CareTouch Collect is a robust system that's seen tremendous success in the past year, and we're excited about welcoming new clients to our family of providers, helping ease the burden of the collection function."
CareTouch provides live demos of each of their solutions. Demos may be scheduled by visiting the company's website at CareTouch.net.
About CareTouch Communications, Inc.
CareTouch Communications, Inc. (http://www.caretouch.net) is a leader in patient engagement, communication and management. The company delivers complete technology solutions to Home Medical Equipment (HME) Providers. The CareTouch360™ platform is a device agnostic technology that helps patients achieve therapy compliance through regular, documented communication at established intervals. CareTouch is patient-focused and features an integrated live, multi-lingual call center, IVR and web based solutions focused on sleep and diabetic resupply, sleep adherence, oxygen equipment replenishment, nebulizer supply replenishment, payment collections and manufacturing recall notification. The company is headquartered in Westminster, Colorado.