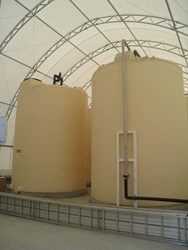 Over 520,000 gallons of bulk DEF storage were added between the above mentioned Brenntag North America locations.
Reading, PA (PRWEB) August 27, 2013
Brenntag, the world's largest distributor of Diesel Exhaust Fluid (DEF), strengthens their North American DEF infrastructure by adding 10 dedicated DEF tankers and installing 15 additional bulk Diesel Exhaust Fluid storage tanks. Tankers have been placed into service at Billings, MT, Chandler, AZ, Charlotte, NC, Chicago, IL, Elmendorf, TX, Greensboro, NC, Lancaster, TX, Menomonee Falls, WI, Richmond, VA and Santa Fe Springs, CA. Bulk DEF tanks were installed at the following facilities: Billings, MT, Borger, TX, Charlotte, NC, Chattanooga, TN, East Point, GA, Greensboro, NC, Kansas City, MO, Memphis, TN, Orlando, FL, Pasadena, TX, Reading, PA, Richmond, CA, Salt Lake City, UT, St. Gabriel, LA and St. Louis, MO.
Over 520,000 gallons of bulk DEF storage were added between the above mentioned Brenntag North America locations. These facilities promote ease of delivery with high-speed rail off-loading stations and dedicated bulk DEF tank truck deliveries. Brenntag's long-term commitment to this industry continues to bring improved efficiencies, keeping Brenntag at the top of the ever evolving DEF market.
Brenntag's expansive global DEF terminal network consisting of over 140 locations in the United States and Canada, offers customers the option to pick up or have DEF delivered in jugs, drums, totes or bulk. A team of DEF dedicated sales and customer service professionals are available to assist with any requirement needed to service SCR equipped vehicles.
About Brenntag:
Brenntag is the global market leader in full-line chemical distribution. Linking chemical manufacturers and chemical users, Brenntag provides business-to-business distribution solutions for industrial and specialty chemicals globally. With over 10,000 products and a world-class supplier base, Brenntag offers one-stop-shop solutions to more than 170,000 customers. The value-added services include just-in-time delivery, product mixing, formulation, repackaging, inventory management, drum return handling as well as extensive technical support. Headquartered in Mülheim an der Ruhr, Germany, the company operates a global network with more than 450 locations in more than 70 countries. In 2012 the company realized global sales of EUR 9.7 billion (USD 12.5 billion) with nearly 13,000 employees.