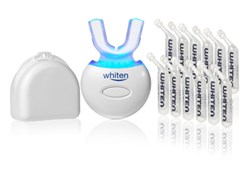 Whiten LLC is an innovator and a leader in their industry. We are excited to have them as a guest on our program.
Imlay City, MI (PRWEB) August 27, 2013
Whiten has officially launched its new pricing structure. For just $49.00 after a $100.00 instant rebate, customers can be on their way to a guaranteed healthier, whiter smile. As most professional teeth whitening systems on the market today can be very expensive, the creators of Whiten felt it is important to provide an affordable product that gives professional results.
Whiten is a hands-free LED system that can be used in the comfort of one's own home. This patented technology is not only safe and effective, but is also extremely easy to use and clinically proven to whiten teeth up to 6 shades in just 10 minutes. The Whiten system is broken down into three key elements; heat, light and pressure. The LED light heats up and activates the gel, while the mouthpiece provides just the right pressure and comfort. One of the biggest advantages of Whiten is that it completely cleans and disinfects the gum line while protecting against and eliminating bacteria and other oral diseases.
Whiten LLC will be on 21st Century Health to talk more about how Whiten has revolutionized the teeth whitening industry.
JL Haber, Vice President of Programming at Multi Media Productions added, "Whiten LLC is an innovator and a leader in their industry. We are excited to have them as a guest on our program."
For more information go to: http://www.trywhiten.com
About Whiten LLC
Whiten LLC was formed with the intent to develop the most advanced home teeth whitening system and make it available to the public. The Whiten product was conceived over two years ago and developed by Whiten LLC at its location in Imlay City, MI.
The Whiten LLC group has over 100 years of product manufacturing, development and over 14 years of teeth whitening experience. Whiten's patented design and technology did not happen overnight. The high-end system was perfected through years of rigorous development and testing with the expertise of business partner Joe Winget who does plastic injection molding for the automobile industry. With all of Whiten's hard work and efforts, Whiten is now launching nationally.
The Whiten professional teeth whitening system is unique compared to every other system on the market today. Whiten is a patented, hands-free system that combines LED light with a proprietary mouthpiece and a specially formulated, non-sensitive gel.
Whiten is manufactured, assembled and packaged in the USA at their 165,000sf facility to insure the highest quality standards.
For more information go to http://www.whitensmilemore.com .