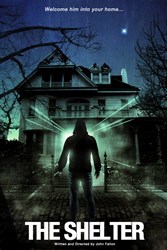 "When our lower animal nature dominates our character our soul is lost." - Michael Pare
Montreal, Quebec (PRWEB) August 27, 2013
In the year 2000, John Fallon founded the horror website Arrowinthehead.com which at the time was one of the first of its kind. Ultimately the site helped pioneer online horror reviewing and news reporting and garnered a massive following within the horror community including many popular horror filmmakers like James Wan, Eli Roth, Darren Bousman, Eric Red, Patrick Lussier, Mick Garris and Monster Man director Michael Davis who once said that "John shouldn't be writing about movies, he should be making them!"
On top of that, John has acted in a myriad of horror films (Saw 2, Alone in the Dark, 100 Feet, Dead Shadows), has 6 produced feature-length screenplays under his belt (Deaden, Billy Trigger, American Muscle) and directed the award-winning horror short The Red Hours.
Today, Bruise Productions and Bigfoot Productions announce the launch of their IndieGoGo campaign to help fund John Fallon's feature-length directorial debut entitled The Shelter. Fallon also wrote the screenplay and will be producing the picture alongside long-time producing partner Donny Broussard and executive producer/actor Michael Pare (The Lincoln Lawyer, Eddie and the Cruisers) who will also be the lead in the film. VFX wiz Thomas Wilson (James Wan's The Conjuring, Insidious: Chapter 2) will be handling the visual effects for the film.
Here are Pare's thoughts on the project: "The Shelter tells a great and painful tragedy. Not about global disaster or war or economic collapse but of the individual human heart. The human heart and soul is what all art seeks to unravel. Guilt, regret and shame kill the heart and soul. When our lower animal nature dominates our character our soul is lost."
And here are John Fallon's thoughts on his feature debut: "The Shelter will present you with an eyeful in terms of striking imagery. It will scare the pants out of you as much as it will make you think and move you. This project is the most personal one that I've ever written, is unlike anything I've done in the past and I believe it is my best work thus far. It's my passion project to say the least."
Through The Shelter's IndieGogo Campaign page, fans can contribute funds towards helping The Shelter reach principal photography and contributors may receive an executive producer credit, be part of the actual production or partake in the wrap-party with cast and crew amongst other cool prizes! The IndieGoGo page and all that it has to offer can be found at:
Synopsis: On a star filled night, widower and homeless man Thomas (Michael Pare) finds shelter for the night when he falls upon a vast two story house with the lights on and an inviting open front door. He strolls on in thinking he just caught a lucky break and for a while, it would appear as though he did. But soon enough, he realizes that the house won't let him leave, as its doors are all locked while its windows cannot be opened or broken. Destiny has brought Thomas to this place. What does it want from him? Will he survive the ordeal? 
Visit the IndieGoGo campaign here: http://igg.me/at/the-shelter/x/4477147
# # #
For more information, contact: Bruise Productions Inc. (john(dot)h(dot)fallon(at)gmail(dot)com)