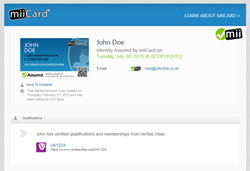 miiCard gives individuals a flexible, trusted online identity to create high levels of trust online across a range of sites and services – all while maintaining complete authority and control over their own information
Edinburgh, UK (PRWEB UK) 27 August 2013
Online identity proofing service miiCard has added verified resume qualifications to its Trusted Identity Public Profile feature through a partnership with online CV certification service Veritas Vitae. Now, miiCard members can highlight certified job experience alongside social media accounts and other key personal qualifications as part of a verified miiCard Public Profile.
miiCard can prove an individual's identity to the level of a photo ID check in minutes and purely online. A miiCard member can choose to showcase certified qualifications, verified ownership of social media accounts and validated basic profile information such as email and mobile/cell number on their Public Profile. miiCard combines verified, user-centric identity profiles with strong authentication and bank level security protections to support the growing Bring Your Own Identity (BYOID) movement.
"miiCard gives individuals a flexible, trusted online identity to create high levels of trust online across a range of sites and services – all while maintaining complete authority and control over their own information," said miiCard CEO James Varga. "This collaboration with Veritas Vitae expands the many uses of miiCard to help members prove their at-a-glance resume qualifications for recruiters and potential employers."
miiCard members can add Veritas Vitae qualifications to their miiCard profile just as they would a social media or trading account. Members can also login to Veritas Vitae with their miiCard credentials. The coordination of these two services provides job seekers, recruiters and employers with a fast, guaranteed way to verify a candidate's identity and employment qualifications.
miiCard's Level of Assurance 3+ identity verification service leverages the authority and security inherent in a member's online financial accounts to prove identity to passport or photo ID standard. For job candidates, miiCard can be used as a global Bring Your Own Identity (BYOID) service that gives them the convenience, control, ease and flexibility of a single trusted identity that can be used across the web. miiCard is available in ten countries and can verify over 350 million people today.
About Veritas Vitae
Veritas Vitae is a secure, online platform for the trusted verification of qualifications, professional memberships and accreditations. It is designed to provide an independently verified 'living CV' which has been checked and approved by the owners of schemes, standards and qualifications.
In a few easy steps, graduates and professional candidates can register for free at http://www.veritasvitae.com. These individuals are then issued with a unique profile number which can be quoted on their CV for employers to check.
Veritas Vitae demonstrates a proactive commitment to preventing CV fraud. Using our service differentiates and protects employers, recruiters and candidates, whilst helping to remove risk from the recruitment process with a fast and cost-effective solution.
About miiCard
miiCard is a global online Identity as a Service (IDaaS) platform that establishes true trust online by guaranteeing an individual's identity to the level of an offline photo ID check, completely online and in just minutes. miiCard helps businesses eliminate fraud, reduce manual processing costs, and prevent high rates of dropout when offline identity checks are required. A member-driven service, based on the principles of Bring Your Own Identity, miiCard empowers consumers to proactively manage their digital identity, build trust online, and trade and transact with confidence. miiCard currently supports the United States, Canada, the United Kingdom, South Africa, India, Australia, New Zealand, Ireland, France and Spain.