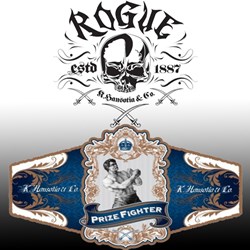 Free Gurkha Calcutta Metal Works Dual Blade Cutter which retails for $59.99 with the purchase of any Gurkha Rogue Box.
Miami, FL (PRWEB) August 27, 2013
GothamCigars.com, America's online cigar store since 2001, announces a special offer on two of the Gurkha premium cigars: Rogue and Prize Fighter. Customers will receive a free Gurkha Calcutta Metal Works Dual Blade Cutter which retails for $59.99 with the purchase of any Gurkha Rogue Box.
The Gurkha Rogue is sold in 20 count wooden boxes starting at $101 per box. This premium cigar is available in 5 1/2 x 46 Rascal, 5 x 52 Tyrant, 6 x 54 Ruthless, 6 x 60 Bamboozle and 6 x 66 Armageddon. A product of the East India Trading Company, Gurkha Rogue uses a carefully selected blend of tobacco, which gives this cigar great complexity and richness. Gotham Cigars makes it easy to enjoy the high-quality Rogue cigars by giving away a free cutter with each purchase. This box pressed cigar is constructed with an Ecuadorian Habano wrapper, Ecuadorian binder and a unique blend of three-year aged ligero from Nicaragua, Honduras and Dominican Republic. This special offer is only available at Gotham Cigars until the end of August, so take advantage of this giveaway before it's gone.
The Gurkha Prize Fighter gives you the taste of a premium Gurkha stick at an affordable price starting at just $37.74 per bundle. Each bundle of Gurkha Prize Fighter has 20 cigars in each, only $1.80 a stick. This game changing Gurkha stick is made in the Dominican Republic and has a Connecticut shade/Ecuadorian wrapper that pairs perfectly with its Ecuadorian/Indonesian binder and three-year aged Dominican filler. The Prize Fighter is available at Gotham Cigars in 6 x 54 Toro and 6 x 60 XO. The Prize Fighter is a mild-medium bodied cigar with a smooth and elegant profile. This bundle is sold at such an affordable price, making it easier for anyone to enjoy the high quality and bold tastes of Gurkha Cigars without putting a big dent in their wallet.
About Gotham Cigars:
Gotham Cigars offers customers one of the country's largest and freshest selections of Premium Cigars, Machine Made Cigars, Filtered Cigars and Humidors. Selling top brands like Alec Bradley, Gurkha, Acid, Phillies, Swisher Sweets and many more has kept Gotham a top pick among other cigar retailers. Gotham Cigars has received five-star ratings by the most trusted online comparison websites for its huge selection, fast shipping and great customer service. Everyday customer service is ready to help with any questions or issues their customers have, whether it is a cigar recommendation, to place an order, or an issue with an order, Gotham is always ready to help.