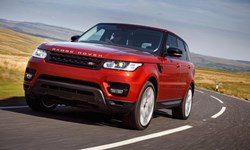 Hinsdale, IL (PRWEB) August 27, 2013
It's sleek, it's powerful, and it is here—the all-new 2014 Range Rover Sport has officially arrived at Bill Jacobs Land Rover Hinsdale this week. For those who've been dying to get behind the wheel of Land Rover's sportiest SUV yet, the wait is over.
Redesigned from the frame up, the sizing, weight, and appearance of the Range Rover Sport for the 2014 model has transformed into something more elegant and smooth than its predecessor. Visually, the sharp angles and blocky design from the previous generation have been rounded out. While the length for the Sport has been extended by 2.5 inches, the wheelbase has also increased by 7 inches, adding to its muscular appeal. Even more impressive is the dramatic loss of mass in the new 2014 Range Rover Sport. Its all-aluminum unibody structure combined with lightweight suspension parts and body panels has helped the Range Rover Sport shed an astonishing 800 lbs.
In keeping with their mission to go green, Land Rover has made a point to incorporate recycled materials in the body of this new model, which is not a common practice with most SUV's on the market. Up to 75 percent of its aluminum parts are derived from recycled materials. Additionally, 59 pounds of recycled plastics, and a renewable leather interior make this SUV stand out from the rest.
The 2014 Range Rover Sport is one book that shouldn't be judged by its cover. When it comes to fast, powerful performance, the handling of this SUV is at the top. The 2014 Range Rover Sport's aggressive off-road capabilities are fueled by either a 3.0-liter supercharged V-6 or a supercharged 5.0-liter V-8. Land Rover estimates its 0-60-mph time as 6.9 seconds, but the Sport feels faster than that, according to reviewers from Motor Trend. In a recent test drive, they trekked through rugged terrain covered in red clay, mud, and even navigated 3-foot-deep streams in the Sport, noting that it "never hesitated or struggled". They found the Sport's binders to provide excellent braking whatever the top speed, even with the optional 22-inch wheels.
Under the hood, The ZF eight-speed automatic transmission under the hood makes for a smooth, quiet ride for any driving style. Paddle shifters on the steering wheel allow driver to shit manually, if preferred. On top of these keystone features, the Range Rover wouldn't be complete without a few bells and whistles. The new 2014 model includes a rage of safe driving features such as adaptive cruise control, lane-departure warning, and eventually, a sign-recognition camera capable of reading road signs to the driver.
About Bill Jacobs Land Rover Hinsdale
Bill Jacobs Land Rover is located near the streets of Downtown Hinsdale at 300 East Ogden Avenue Hinsdale, IL 60521, and has been in the automotive industry for over 50 years. They offer state of the art facilities offer internet, complimentary Land Rover loaners, complimentary car wash, comfortable customer service lounge, children's play area, high-definition TVs, and complimentary refreshments. Contact 630.323.3952 for more information.