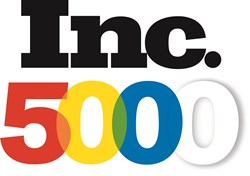 Rainmaker is very proud to be on the list of America's fastest-growing private companies for three years in a row.
ATLANTA, GA (PRWEB) August 26, 2013
The Rainmaker Group, a world leader in automated profit optimization software and services for the multifamily housing and gaming/hospitality industries, is pleased to announce it has again earned a spot on Inc. magazine's elite list of the nation's fastest-growing private companies. This is the third year in a row that Rainmaker has received this honor. Behind this year's No. 2698 ranking was the Atlanta, Ga.-based firm's remarkable 130 percent revenue growth, up 15 percent over its triple-digit percentage from a year ago.
In his letter to Inc. 5000 honorees, Eric Schurenberg, Inc.'s editor-in-chief, said that making this year's list "was harder to get into than ever in its history." Rainmaker has joined many other fast-track brands on this year's distinguished list, including Gogo, Living Social, HubSpot and OtterBox. Rainmaker and all these companies now share a pedigree with a lot of other high-profile companies and recent alumni, including Zappos, Intuit, Under Armour and Pandora, to name a few.
"Rainmaker is very proud to be on the list of America's fastest-growing private companies for three years in a row," said Bruce Barfield, who, along with Tammy Farley, co-founded and are principals of The Rainmaker Group. "We believe we're a 'regular' on this list for a number of reasons. First, we foster a culture designed to attract capable, customer-centric professionals who are given a high degree of individual responsibility. Ours is not a 'group think' culture, but rather a 'best idea' culture; a culture of learning and adapting and being nimble. And it doesn't matter where the idea comes from. What matters is, 'do your ideas and solutions meet customer needs and satisfy customer wants?' When these cultural principles are in place and when we continue to get the kind of buy-in we've traditionally gotten across our enterprise, our growth has occurred naturally and organically. Of course, I'd be remiss if I didn't also acknowledge our great customers. It is a privilege and a pleasure to serve them and we share this honor with them."
The Inc. 5000 companies, including The Rainmaker Group, are profiled on Inc.com and will be celebrated at the 32nd Annual Inc. 500|5000 Conference and Awards Ceremony to be held October 10-12, 2013, at the Gaylord National in Washington, D.C.
Inc. Methodology
The 2013 Inc. 500|5000 list is ranked according to percentage revenue growth when comparing 2009 to 2012. To qualify, companies must have been founded and generating revenue by March 31, 2009. Additionally, they had to be U.S.-based, privately held, for profit, and independent – not subsidiaries or divisions of other companies – as of December 31, 2012. (Since then, a number of companies on the list have gone public or been acquired.) The minimum revenue required for 2009 is $100,000; the minimum for 2012 is $2 million.
About Inc. Magazine
Founded in 1979 and acquired in 2005 by Mansueto Ventures LLC, Inc. (http://www.inc.com) is the only major business magazine dedicated exclusively to owners and managers of growing private companies that delivers real solutions for today's innovative company builders. With a total paid circulation of 710,106, Inc. provides hands-on tools and market-tested strategies for managing people, finances, sales, marketing, and technology.
About Rainmaker
The Rainmaker Group is the market-leading provider of automated Revenue Management and profit optimization software solutions for the Multifamily Housing and Gaming & Hospitality industries. Rainmaker software, coupled with professional business consulting services, enables multifamily housing operators to maximize revenue from apartment leases and helps operators of casino hotels and other hospitality enterprises secure the most valuable customers to increase their profitability. An innovator and thought leader in the highly specialized pricing and revenue optimization field, Rainmaker leverages cutting-edge research to bring clients the most sophisticated systems and help them achieve the highest profitability from their assets. Multifamily housing clients include leaders such as AvalonBay Communities, Equity Residential, Gables Residential, Post Properties, Mid-America Apartment Communities and more. Gaming/Hospitality clients include leading casino/hotel organizations such as Atlantis The Palm Dubai, Caesars Entertainment, MGM Resorts International, Omni Hotels & Resorts, Wynn Las Vegas, and many others. A Microsoft Gold Certified Partner headquartered in northern Atlanta, GA, Rainmaker has for three years running ranked on the Inc. 5000 list among America's top fastest growing, privately held companies. For more information, visit http://www.LetItRain.com.