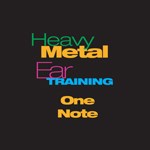 muse-eek.com presents its classic Key-Center Based Ear Training program geared to the Heavy Metal enthusiast, using the sound of Crunch and Shred
New York, New York (PRWEB) August 28, 2013
What would Heavy Metal be without the powerful, distortion-driven sound of the electric guitar? Thousands, perhaps millions, of young musicians have dedicated themselves to mastering the lightning fast licks and searing solos of this demanding genre. But when they venture into ear training, often they find themselves listening to a synthesized tone, a piano, or perhaps an acoustic guitar in their lessons. This can give learning ear training a less than inviting feeling, making the work hard to relate to.
Now Muse-eek Publishing presents its classic Key-Center Based Ear Training program geared to the Heavy Metal enthusiast, using the sound of Crunch and Shred, the "Heavy Metal Ear Training Series." Guitarist Bruce Arnold had been working on his CD "Heavy Mental" when the idea came to him. As he was recording, and honing in on exactly the frequencies and distortions he wanted, he fell in love with the sound, and made the connection to how a student of Heavy Metal Music might really enjoy the ear training experience by listening to exactly the sound he or she most emulates. You can hear some of his classic tones on his new CD "Lavadura."
There is another aspect to this approach "I have found that if a person trains their ear to just one sound, it can be difficult to switch the skill over to another sound," says Arnold. "Our ear tends to identify what we have learned with the sound we have learned it through. So even if one trains listening to an acoustic guitar sound, it can take a bit of time to transfer the skill to an electric one. Learning with the sound you will be using from the get-go eliminates this transitional time." (For this reason, Muse-eek has also produced the "Ear Training: Instrumental Color Series.")
In this series of ear training exercises, Arnold used the sound of a Joe Satriani signature JSX Peavey head and cab with a Fulltone OCD distortion box, and a Music Man John Petrucci signature guitar. This produces a classic Heavy Metal tone.
As with all Muse-Eek books, customers are never left on their own, but rather, have access to the author Bruce Arnold through both email and his blog at brucearnold.com.  If problems in comprehension or process arise, Mr. Arnold is available to answer questions and clarify concepts.  There is also an extensive and searchable FAQ section of the muse-eek.com website. This interactivity in the service of education is what sets all Muse-Eek products apart from the herd.
With over 30 years of experience teaching ear training Mr. Arnold has learned how best to convey the concepts he has developed, but also understands that there is always a possibility for misinterpretation of an idea. While some students can fly through an Ear Training course with no problem, he knows many musicians need some help. He cares deeply about any sincere student, and improving musicianship is his top priority.