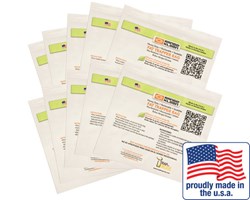 Trap the Grease!
Lima, Ohio (PRWEB) August 27, 2013
As the #1 Range Accessories Brand (according to the AC Nielsen Scan track report), Range Kleen has made containing Grease and Fat easier to do! Range Kleen first launched The Fat Trapper and Replacement bags in 1995, targeting Waste Water Treatment Facilities. If you're not familiar with this Range Kleen successful product, The Fat Trapper is an airtight container that houses a Fat Trapper Refill Bag. Proper disposal of cooking grease, fats and oils is important to do in an environmentally friendly way that is convenient for the consumer. Range Kleen has re-designed the function of the Fat Trapper Replacement bag, which is Made in the USA, for a more secure storage of the grease with a new and improved sealable zip closure. Hot or Cold grease can easily be stored and disposed of eliminating the odor that collects in a tin can. Each Replacement bag can hold 32 ounces of liquid and is heat-safe up to 150°F. When full, simply remove, seal and discard. Grease Blockages in sewer pipes are a direct result of grease that is poured down the drain, costing both the consumer and the city huge dollars in repairs every year. Range Kleen is already helping various Waste Water Departments in the U.S and Canada to "Trap the Grease!" Clients also have the option to personalize the Fat Trapper Canister with their company logo. For more information regarding our Trap the Grease program, check out http://www.trapthegrease.com/ or our home page http://www.rangekleen.com.
About Range Kleen Mfg., Inc.
Range Kleen Manufacturing, Inc. is a Lima, OH based company manufacturing household products sold to major retail chains globally and has been taking care of the customer (TCOTC) since 1971. Its product divisions include Original Equipment Manufacturing Quality (OEM) replacement drip pans for ranges & stoves; Non-stick Metal Bakeware; Kitchen Decorative products specializing in exclusive licensed designs;Storage, Organization, insulated food and beverage bottles and household cleaning supplies. Range Kleen Introduced their own line of cookware- Stainless Steel and Enameled Cast Iron as well as pot racks in 2007.
Effective December 21, 2009, Range Kleen Manufacturing was pleased to announce the partnership with Berndes Cookware USA and has taken the lead of all sales, marketing and shipping of Berndes Cookware USA from their International Headquarters in Lima, Ohio.