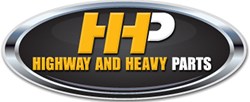 Midland, MI (PRWEB) August 27, 2013
Highway and Heavy Parts (HHP) releases the latest addition to their Tech Tip Series covering reusing pistons to save money.
Highway and Heavy Parts (HHP) is pleased to announce the latest addition to their diesel engine parts "Tech Tip" series. This month's topic will cover the benefits and drawbacks to reusing pistons.
Rebuilding an engine on a class eight truck is a costly procedure. Depending on how extensive the repairs, the parts alone can range from fifteen hundred to fifteen thousand. One option for reducing the cost of an engine overhaul rebuild is to reuse the pistons. The pistons are typically the single most expensive part in a rebuild kit. Taking them out can make the kit affordable for nearly everyone's budget. HHP covers in their tech tip the various reasons why or why not this may be a viable option.
To view the HHP blog with this Tech and more, click here.
HHP's Tech Tip Series is an ongoing project to help address common problems in the diesel engine sector. Each month they choose a frequently asked question that the Parts Department has received by their customers. The chosen topic is then addressed in their blog and aims to help others that are running into the same issue(s). The engine applications that they cover are the most popular in the on-highway trucking industry including manufacturers such as Caterpillar, Cummins, Detroit Diesel and International.
Highway and Heavy Parts will continue to update their tech blog with interesting issues that arise throughout the heavy highway industry. They urge everyone to check it out and leave feedback so they can better serve the needs of diesel parts market.
Click here to access the HHP blog.
For more information on camshafts or any other diesel engine parts from HHP, you can visit their website (http://www.highwayandheavyparts.com) or call them toll free at (855) 447-7278 to speak with one of their qualified professionals. HHP specializes in rebuild kits, cylinder heads, camshafts, crankshafts, fuel injectors, turbochargers, and gasket sets for Caterpillar, Cummins, Detroit Diesel and International engines.