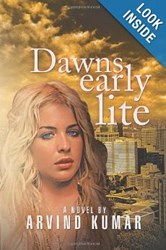 In the intensive care unit and in the classroom, 'Dawnsearlylite' is a romantic drama of love, sex and betrayal
Toronto, Canada (PRWEB) August 28, 2013
Does prostitution have a place in our society? Is it good, bad, or something else entirely?
The novel Dawnsearlylite by Arvind Kumar follows a school teacher who works a second job as an escort providing sexual services at night to make ends meet. She soon finds she does not want to stop her second life in a tale that touches on the controversial subject of sexual addiction.
"Once she gets involved in a romantic relationship with a physician, her situation spirals out of control quickly," said Kumar. "No one can lead two lives and keep one secret for long."
The author hopes to bring attention to tough issues of sexuality confronting Western society today.
"In the intensive care unit and in the classroom, Dawnsearlylite is a romantic drama of love, sex and betrayal," said Kumar.
Dawnsearlylite
By Arvind Kumar
ISBN: 978-1479768684
Retail price: $19.99
Available at http://www.amazon.com and http://www.barnesandnoble.com.
About the Author
Arvind Kumar is a Professor of Medicine and a known leader in his field internationally. In 2003, he ventured into fiction and wrote his first book, FreckleFace. Since then he has written five novels and published three. While he is not working, Kumar is a marathon runner, competitive distance cyclist and avid reader whose tastes range from ancient history to contemporary fiction.
###
EDITORS: For review copies or interview requests, contact:
Jonathan McAfee | 317-602-7137 | jmcafee(at)bohlsengroup(dot)com
(When requesting a review copy, please provide street address.)