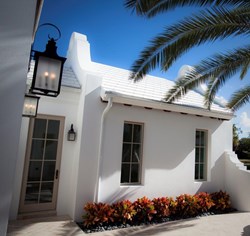 It was that true to style character as well as the quality of the build that helped us win Sarasota's Home of the Year for 2013.
Sarasota, FLorida (PRWEB) August 26, 2013
Perrone Construction has sold the 2013 Sarasota Home of the Year. The sale comes after a short time on the market and marks the builders second such success with the unique architectural style and Jewel Box series of homes. "We were excited to win Home of the Year especially with the competition that we were up against, but to have the home sell so quickly really shows that the formula is right, we don't just look to build houses, we look to do something very special with the homes we build."
The Dutch West Indies Bonaire is special and unique in Sarasota. To develop the architecture of the home the builder, traveled to the Caribbean prior to developing plans to get a thorough understanding of the architecture and detailing. "We always strive for authenticity in the homes we build, traveling to the Caribbean was a way for us to generate ideas but also to make sure we were being true to the style we were replicating, this is where the character of this home comes from," says Richard. "It was that true to style character as well as the quality of the build that helped us win the top prize of Home of the Year."
One of the greatest features of the home is the way the exterior architecture of the home can be viewed from within any room. "We view architecture as art and the idea was really to present it that way in this home." While the exterior is true to style Dutch West Indies, the interior takes on a much more contemporary and warm feel, the contrast is subtle but very interesting and creates a sense of casual elegance.
The Bonaire is one of the homes the builder terms as a "Jewel Box." It's described as being any home under four thousand square feet that incorporates the amenities features and quality of the contractor's much larger custom homes.