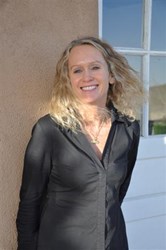 Santa Fe, N.M. (PRWEB) August 26, 2013
The Santa Fe University of Art and Design (SFUAD) Creative Writing Department will host alumna Joanne Dominique Dwyer ('05), a published poet and 2008 Rona Jaffe Foundation Fellowship recipient, on campus Sept. 23–24.
Dwyer will visit several SFUAD creative writing classes and will give a reading in the O'Shaughnessy Performance Space on Tuesday, Sept. 24, at 7 p.m. The event, free and open to the public, will be followed by a brief Q&A session and book signing.
According to publisher Sarabande Books, Dwyer's first book, Belle Laide (May 2013), "is a first book that reads like a third or fourth collection by a strong poet in mid-career: The voice is fully formed and idiosyncratic, the concerns obsessive, profound, and unmistakably central to the poet's life. Sexton and Plath are obvious influences, and Belle Laide bears a familial resemblance to books by these iconic Confessionalists."
"A whirling, Dionysian poet. . . . Dwyer negotiates brazenly with huge tracts of the human condition. Her leaping imagination will make you laugh out loud. The poems in Belle Laide are a rodeo; hang on to your saddle, cowboy."
—Tony Hoagland
In addition to receiving accolades for her first book, Dwyer is a recipient of a Rona Jaffe Foundation Writers' Award (2008), a Bread Loaf Scholar award, the Anne Halley Poetry Prize and The American Poetry Review's Jerome J. Shestack Prize. Her poems have appeared in The American Poetry Review, Conduit, FIELD, Many Mountains Moving, The Massachusetts Review, New England Review, Spoon River Poetry Review, Poetry, TriQuarterly and other magazines. She resides in Northern New Mexico and works as a facilitator for the Brooklyn-based Alzheimer's Poetry Project. Dwyer was recently awarded a grant from the Witter Bynner Foundation to work with at-risk teens in Bernalillo, N.M., on a project she created called "Poetry and Identity."
"From the moment Joanne arrived to study creative writing with us, she was a protean presence," said Dana Levin, co-chair of the Creative Writing and Literature Department. "I knew she'd embark on an illustrious poetry career: Talent this vivid doesn't rest. We're so proud and delighted to be able to bring her back to campus as our Fall visiting poet and spread the word about her fantastic first book."
Name of event: Joanne Dominique Dwyer Public Reading and Book Signing
Date of event: Tuesday, Sept. 24
Time: 7 p.m.
Place: O'Shaughnessy Performance Space in Benildus Hall
More information: Contact Susanne Miller at 1-505-473-6200.
Collected Works Bookstore will have Dwyer's book available for purchase during the Sept. 24 reading and book signing event.
About SFUAD's Creative Writing and Literature Department:
The Creative Writing and Literature Department at Santa Fe University of Art and Design enables students to learn from and grow along with a core of published, award-winning authors. Dedicated students polish their literary skills and discover the right forms for their unique voice, while taking advantage of numerous opportunities to conduct public readings, work collaboratively, and inspire and be inspired by their peers. Annually, the Creative Writing and Literature Department publishes a student-edited and student-produced literary journal, Glyph, featuring some of the university's best writing in creative nonfiction, fiction, poetry and screenwriting.
About Santa Fe University of Art and Design:
Santa Fe University of Art and Design is an accredited institution located in Santa Fe, New Mexico, one of the world's leading centers for art and design. The university offers degrees in arts management, contemporary music, creative writing, digital arts, graphic design, film, performing arts, photography and studio art. Faculty members are practicing artists who teach students in small groups, following a unique interdisciplinary curriculum that combines hands-on experience with core theory and prepares graduates to become well-rounded, creative, problem-solving professionals. As a Laureate International Universities Center of Excellence in Art, Architecture and Design, the university boasts an international student body and opportunities to study abroad, encouraging students to develop a global perspective on the arts. Santa Fe University of Art and Design is accredited by The Higher Learning Commission and a member of the North Central Association, http://www.ncahlc.org.