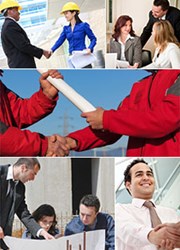 Posting positions with Construction Connection is super easy. And the applicants responding to our ads are qualified professionals.
NEW YORK, NY (PRWEB) August 27, 2013
New York-based MEP engineering firm Edwards & Zuck became a Construction Connection partner in 2012. Today, Edwards & Zuck is enjoying the benefits of extra online exposure, client referrals and the patent-pending job-matching tool on ConstructionConnection.com. Co-Founders of Construction Connection Suzanne Breistol and Kent Leighton are also pleased with the symbiotic partnership, especially as Edwards & Zuck are leaders in innovative and sustainable building.
Construction Connection is a community network for professionals of all levels in the construction and building industry. Individual and company members enjoy access to educational resources and tools, job searches and job posting, and the Construction Connection partners. The partners, which include business consultants, attorneys, software developers, wage compliance and benefits experts, engineers and more, are industry leaders offering their services to site members. While Edwards & Zuck is among the partners, they also use Construction Connection as a hiring resource.
"We have posted engineering positions as well as administrative," says Kathy Hennessy, Marketing Coordinator at Edwards & Zuck. She adds, "Posting positions with Construction Connection is super easy. And the applicants responding to our ads are qualified professionals. Edwards & Zuck will definitely continue to use Construction Connection as a resource for finding qualified professionals."
As long-time veterans of the construction industry, Breistol and Leighton knew early on that building a site specifically focused on their industry would not only make finding construction jobs easier, but it would make finding qualified candidates easier as well. This has been a cornerstone of their site, and it is how Edwards & Zuck has been able to enjoy applications from experienced, qualified individuals with backgrounds in construction.
In addition to streamlining the hiring process, Breistol and Leighton also had a vision for a community network where people could learn about and discuss the latest news and trends in construction. Edwards & Zuck's mission to promote retro-commissioning and sustainable building helps Construction Connection members stay on top of this important movement.
"Retro-commissioning improves a building's operations and maintenance procedures to enhance overall building performance. Additionally, retro-commissioning continues to gain traction in all market segments as building owners are recognizing the cost benefit of the retro-commissioning process." Hennessy explains. "Some jurisdictions, like New York City, have even codified retro-commissioning requiring building owners to continually 'tune up' their buildings to improve their energy efficiencies. As green building practices become a priority, the industry is certain to see new innovative green technologies being developed and implemented. Sustainability continues to step into the spotlight of our clients' objectives, which is exciting to see."
Beyond providing retro-commissioning services and other best practices, Edwards & Zuck works to educate other members of the construction and building community about the importance of sustainable building. Environmental Specialist Zoe Reich, who writes most of the articles the MEP firm publishes on Construction Connection, is even on the panel of the upcoming NYC Sustainability Summit. Bringing innovative leaders like Edwards & Zuck to the Construction Connection network is an important achievement for Breistol and Leighton that has allowed Construction Connection to grow into the one-stop-shop for industry professionals of all levels.
While Construction Connection continues to expand their partners program, they will focus on bringing in other leaders like Edwards & Zuck. Through their shared mission of improving the industry – whether through helping small businesses find top-tier talent or educating contractors and engineers on the most efficient new building technologies – Edwards & Zuck and Construction Connection lead the way in creating a better, stronger construction industry.
Construction Connection was created out of a need for a more effective and streamlined way for construction industry professionals to get matched with the right industry jobs and with the right industry opportunities. The founders of Construction Connection listened to both company and individuals' dissatisfaction with the traditional job boards, the paid resume blasts, the overpriced resume services and overall lack of sympathy toward the individual candidate. They listened to the dissatisfaction from companies who post jobs only to get many irrelevant results or having to purchase high priced ads to showcase their company. Construction Connection is a patent-pending, one-of-a-kind profile creating / match-making system. The system delivers effective results. Construction Connection saves you time, money and aggravation by matching people to people, people to companies, companies to people, and company to company.