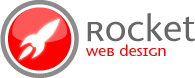 Rocket Web Design offers great looking websites at an affordable cost.
Salt Lake City, Utah (PRWEB) August 26, 2013
A New Logo to Spark Increased Traffic for Commercial Website
Getting an advantage in business requires staying in touch with the important aspects of marketing and customer demand, and by partnering with Rocket Web Design, a business can do that and more. Changes in consumer trends in the digital age are enabling businesses to deliver a increased range of information to their customer base through creative and intelligent custom website design elements which including a modern, attractive and unique logo as well as customized designs. Businesses old and new are being separated by the simplicity and attraction that a customer has initially to their logo and later through an intelligent and attractively designed website.
Like a great book cover, a logo should present a message about what the customer might be able to find inside. Digital media and marketing solutions from Rocket Web Design provide a business the skills and attention to details like the generation of a unique new logo that will aid them in obtaining an edge to attract increased website traffic. This attention from a business logo that will bring in more traffic to the businesses website is documented by Rocket Web Design. The generation of a well designed business logo does many things to support more website traffic which can be explained during an introduction and consultation by one of Rocket Web Designs representatives.
Custom Website Design Provided by Rocket Web Design Provides Increased Website Traffic
A professional logo which gives a consumer a reason to be attracted to a businesses website is a great start. Rocket Web Design takes the task of providing a new logo and then explosively delivers the content of the website to the consumer. Rocket Web Design uses the latest technology and practices to build their web design packages. They connect these custom built websites to their tracking and reporting tools which provide the feedback necessary to continue to modify the impact of the solution to deliver increased website traffic and in turn more customers and revenue.
Contact the team at Rocket Web Design to become acquainted with an innovative leader of custom website design solutions. They can show you the data of increased efficiency and increased profits that many of their satisfied design package customers have had and explain how to obtain similar results.