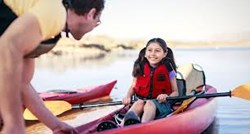 Show how your family eats, plays, and loves to be eligible to win the contest Grand Prize.
Rhinebeck, NY (PRWEB) August 26, 2013
Topical BioMedics, Inc. invites the public to submit photos for its first annual "Eat. Play. Love." photo contest.
To enter, contestants should submit a photo of their family eating, playing, or loving (or all three at once) and include a caption via Topricin's Facebook Page here: http://on.fb.me/14RQ3rs
The photo should capture healthy-living family fun. Contestants are encouraged to be creative! (Here's an example: A family picture on a tropical beach, drinking straight from coconuts, making funny faces with the caption "Crazy in Love for Coconuts!"). Entries may be made by "Liking" Topricin's Facebook Page via this link http://on.fb.me/14RQ3rs. Direct email submissions to Christina Towle at ctowle(at)topicalbiomedics(dot)com or sent via U.S. Postal Service to "Eat.Play.Love. Contest," Topical BioMedics, Inc., 6565 Springbrook Avenue, PMB #207, Rhinebeck, NY 12572, and must be postmarked by September 30, 2013.
The Grand Prize winner, for the most creative picture and caption, will receive a gift-basket in healthy-living children's products worth over $250.00. The Basket will include four 2-ounce tubes of Topricin for Children, one 4-ounce jar of Topricin, one 4 oz. jar of Topricin Foot Therapy Cream; a variety of hand-picked, healthy, innovated and eye-catching products from Waddle n Swaddle http://www.waddlenswaddle.com and a size-specific CozyWoggle - the ONLY product that looks and acts as a coat, but is safe to be worn in a car seat http://www.cozywoggle.com.
Participants qualify to win a tube of Topricin for Children, which will be awarded at random through September 30, 2013.
Contest winners will be announced on the Topricin website http://www.topricin.com; Waddle N Swaddle website http://www.waddlenswaddle.com; and CozyWoggle website http://www.cozywoggle.com and via each company's social media networks. All submissions become the property of Topical BioMedics, Inc., and participants agree to allow Topical BioMedics to publish the submitted photo, caption, and name, and use in future promotions.
For inspiration and to instantly submit your photo, visit: http://on.fb.me/14RQ3rs.
For more information about the contest, please contact Christina Towle, Media Relations Liaison, email ctowle(at)topicalbiomedics(dot)com or telephone 845-871-4900 ext. 1114.
HOW TO EAT, PLAY & LOVE WELL
Topical BioMedics, Inc., offers the following healthy-living tips for families:
Eat Well:

Ensure that all lunch gear and lunch boxes are free of BPAs, phthalates, and other toxic chemicals.
Children should sit up straight when eating, should have sufficient number of teeth, and the muscular and developmental ability needed to chew and swallow the foods chosen. Remember, not all children will be at the same developmental level. Children with special health care needs are especially vulnerable to choking risks.
Dr. Gary Smith, the lead author of American Academy of Pediatrics' policy statement on food hazards, says some foods should simply not be given to children under the age of four or five: raw carrots, marshmallows, peanuts, popcorn, hard candies and gumballs.
Play Well:

Clothing and shoes should fit properly. Loose clothes can catch in playground equipment, and properly fitting footwear minimizes the risk of falling or tripping.
Children should have a physical exam before participating in sports and always wear the proper protective equipment. Be sure your child stretches and warms up muscles prior to activity, which helps prevent injuries.
Since bullying is a growing epidemic, an adult should accompany younger children to the bus stop and playground to avoid episodes of roughhousing.
Love Well:

A Child's backpack should weigh no more than 10% -15% of the child's body weight. .
Learn how to choose and install a carseat properly at http://www.nhtsa.gov/Safety/CPS
Carefully choose proper pain relief options for your child that contains no grease, odor, parabens, petroleum, counter-irritants, or any other chemical ingredients.
About Topical BioMedics, Inc.
Topical BioMedics is the research and development leader in patented topical natural medicines for pain relief. The company's flagship product, Topricin® Pain Relief and Healing Cream, was introduced in 1994 and is now a leading natural therapeutic brand. A combination biomedicine formula, Topricin has been awarded a patent for the treatment of pain associated with fibromyalgia and neuropathy, was listed among the Top 100 Green Products of 2012 by Healthy Holistic Living. The product also earned the "No. 1 Pharmacists Recommended" designation in the "Topical Analgesics" category for 2012 – 2013 from US News and Pharmacy Times, along with 17 other national OTC brands, and is the only homeopathic formula to earn that distinction.
The Topricin family of natural healing products also includes Topricin Foot Therapy Cream, specially formulated to treat painful foot and ankle issues and conditions, and Topricin for Children, which received the Parent Tested Parent Approved Seal of Approval (with 5% of sales donated to pediatric cancer foundations). Made in the U.S.A., all Topricin products are federally-regulated over-the-counter medicines with no known side effects, no parabens, petroleum, or other harsh chemicals, no grease, and no odor.
Topricin is available in pharmacies, natural food stores, and retailers nationwide, including Whole Foods, The Vitamin Shoppe, Fred Meyer, Wegmans, CVS (Foot Care Section), Walgreens (Diabetic Section) and other fine stores, as well as directly from the company.
For more information visit http://www.topricin.com.
About Waddle n Swaddle LLC:
Waddle n Swaddle is a mama and baby essentials maternity boutique and wellness center with two locations in the beautiful Hudson Valley; the Arlington section of Poughkeepsie and Rhinebeck.
At Waddle n Swaddle they have done their homework so you don't have to. They have hand-picked the stores selection to bring their customers the most healthy, innovative and eye-catching products available.
Waddle n Swaddle's goal is to meet the needs of the expecting and breastfeeding mother, newborn, infant and toddler. They have a carefully chosen a selection of essentials for each stage of pregnancy and baby-hood to help make life easier for parents.
Both stores also offer a variety of services suited to meet all the needs of the new family. Private lactation appointments, support groups, info sessions and bra fittings represent just a few of the specialties offered. For more information visit: http://waddlenswaddle.com/
About CozzyWoggle:
When Cherlyn Jenkins learned that young children shouldn't be placed in car seats while wearing their coats, she had a newborn and a toddler. She needed to find a way to keep her children warm, while also keeping them safe. She couldn't find any coats or jackets that were proven to be safe in car seats, so she created one herself.
The CozzyWoggle is the ONLY product that looks and acts as a coat, but is safe to be worn in a car seat. It is made from heavy-duty wind/water resistant polyester, and is lined with cozy fleece. The CozzyWoggle can be used with any 5-point harness car seat - either forward or rear-facing and comes in sizes 12 months, 18 months, 2T, 3T, 4, 5 and 6. The CozzyWoggle has been crash tested in a lab and proven to be safe in a car seat.
Cozywoggle has been selected as one of the finalists in the "Most Awesome Kids Travel Essentials" category in the 2013 Red Tricycle's Totally Awesome Awards.
Available for sale in September, 2013 from Amazon.com and can now be purchased from their website. For more information visit: http://www.cozywoggle.com/
Sources:
New York State Department of Health http://www.health.ny.gov/prevention/injury_prevention/choking_prevention_for_children.htm
Topical BioMedics, Inc.
Time.com http://healthland.time.com/2010/02/24/why-pediatricians-are-advocating-a-hot-dog-redesign/