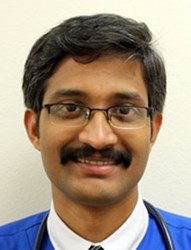 We're proud to add these two talented doctors to our veterinary staff. Our growing pool of veterinary talent ensures the highest level of care for our patients.
San Antonio, Texas (PRWEB) August 26, 2013
Becker Animal Hospital & Pet Resort has added two new veterinarians—Dr. Hari Addagarla, DVM, and Dr. Sai Rajesh Kancharla, DVM—facility owner and chief veterinarian Dr. Michael Becker, DVM, has announced. Becker Animal Hospital now has 10 full-time veterinarians, giving the huge San Antonio veterinary care complex the largest medical staff of any locally owned facility in the metro area.
Becker Animal Hospital continues to build its staff from both U.S. and international talent pools, with more than half the staff veterinarians bringing skills from around the globe.
"We're proud to add these two talented doctors to our veterinary staff," Becker said. "Our growing pool of veterinary talent ensures the highest level of care for our patients."
Dr. Addagarla received his DVM degree from India in 2004 and worked for nearly three years as a veterinarian before moving to the United States to pursue research on stem cells and regenerative medicine. He obtained his license to practice in the United States in 2010 and has been practicing in a small animal hospital in West Virginia since 2011. Addagarla is most interested in small animal medicine and surgery, and rodent medicine.
Dr. Kancharla graduated from Sri Venkateswara Veterinary University, India. He received his Masters in Microbiology from University of Nebraska, Omaha. He completed his ECFVG certification in November 2011 to practice veterinary medicine in America. After honing his surgical skills at the Houston Humane Society, he worked for Banfield Pet Hospital before moving to San Antonio. He continues to focus on learning advanced surgeries and diagnostic imaging.
Becker Animal Hospital is a full-service 24-hour, seven-days-a-week veterinary hospital equipped to handle emergency vet care, surgical and medical cases, as well as routine vaccinations and wellness care. At 22,000 square feet, the brand-new state-of-the-art facility is one of the largest in Texas.
No appointments are necessary, and regular prices are in effect around the clock – never any extra emergency pet clinic fees for nights or weekends. A spacious lobby and seven exam rooms ensure pets are seen quickly and efficiently.
The Becker Pet Resort accommodates more than 35,000 pet visits a year, with pet boarding facilities range from economy cages to luxury suites with windows and Petcam views so owners can monitor their pets. Amenities include 53 luxury dog boarding suites, many of which have outside window views, spacious kennels, indoor-outdoor kennels and economy cages. The Cat Boarding Condos are located away from the dogs, with many having outside windows and a view of a large tropical fish tank. Doggie Daycare is also available. Like the medical facilities, Becker pet boarding accommodations are available for pickup or drop-off 24/7 at the customer's convenience. And veterinarians are on duty around the clock in case of medical emergencies.
In April 2013, Becker Pet Resort launched its Doggie Splash pool – available for dogs being boarded, as well as those in Doggie Daycare. This is the first in-ground dedicated swimming pool at a pet boarding facility in the region.
The Becker Animal Hospital & Pet Resort complex is conveniently located on I-10 West, just inside Loop 410, across from the TexSan Heart Hospital, with easy-access parking and a covered entry drive for wet weather