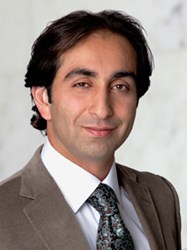 A lot of patients who develop salivary stones will not need treatment, as they will break up on their own.
Beverly Hills, CA (PRWEB) August 30, 2013
A study published in the May 2013 American Academy of Otolaryngology – Head and Neck Surgery has found endoscopic laser lithotripsy an effective technique for fracturing stones obstructing Wharton's duct. The University of Rome treated 16 patients with a holmium YAG laser to break apart sialoliths (salivary stones) between 5-8mm that were found to be obstructing the Wharton's duct—a submandibular salivary duct that runs under the tongue. They followed the patients over the next 3 months and the results were that of the 16 patients treated with this innovative technique 12 (75%) were without any residual stones.
"The Wharton's duct is responsible for releasing some of the saliva into the mouth to help with digestion and moisture. When the duct becomes occluded there can be pain, swelling, and even pus at the opening of the duct. It can be quite uncomfortable for the patient," explained Babak Larian, MD, FACS of the CENTER for Advanced Parotid Surgery.
Currently the treatment options for submandibular stone obstructions are limited. Lithotripsy (breaking apart the stone) can be accomplished with the use of extracorporeal shock wave lithotripsy (ESWL) or endoscopically traveling into the duct and using electro hydraulic, pneumoblastic, or laser devices. The use of ESWL has been limited in submandibular stones because of their location close to teeth and can be damaging to other salivary glands or the patient's hearing. Both electro hydraulic and pneumoblastic techniques have also shown to have various side effects including damaging the duct itself and the glands it is connected to.
"The holmium YAG laser is currently used in common practice to remove kidney stones that have obstructed urine outflow, so it's great to know the same technique may help those suffering from Wharton's duct stones," said Dr. Larian.
Laser treatment is not the only way to get rid of bothersome salivary stones, however. Dr. Larian and his team of head & neck surgeons at the CENTER for Advanced Parotid Surgery in Los Angeles are expert salivary gland specialists who use the most advanced minimally invasive endoscopic salivary stone procedures to rid individuals of salivary stones.
"A lot of patients who develop salivary stones will not need treatment, as they will break up on their own. However, sometimes the stones are large enough to become lodged in the salivary duct and cause a lot of problems. We have seen great success in restoring patients' salivary function by removing salivary stones through minimally invasive surgery," said Dr. Babak Larian.
World-renowned parotid gland surgeon Babak Larian, MD, FACS, is a graduate of the highly regarded U.C. Irvine School of Medicine and has completed a six-year residency program in Otalryngology and Head & Neck Surgery at UCLA. As the Director of the Center for Advanced Parotid Surgery in Los Angeles, Dr. Larian and his team of experts are responsible for the performance of cutting-edge minimally invasive salivary gland surgeries. Dr. Larian aims to provide his patients with the best possible care and surgical outcomes 100% of the time.
For more information about Dr. Larian and the Center for Advanced Parotid Surgery, please contact his office today by calling (310) 461-0300 or visit him on the web at: http://www.parotidmd.com